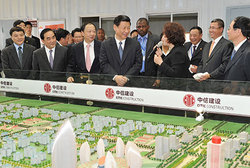 Representatives from CITIC Construction on a business visit to Luanda, Angola in 2012.
China Daily | 17 November 2014
Changing the face of real estate in Angola
By Li Jing
He says that CITIC Construction evaluated the Chinese companies to ensure that their products and services were of the highest quality.
Backed by the success in Kilamba Kiaxi, the company is now working with other Angolan city governments to build similar housing projects. It is also exploring opportunities in the nation's farming sector to help reduce Angola's dependence on food imports to feed its population of 18 million.
"Angola has so much fertile land, but it is also a large food importer," Liu says. "Having farms in Angola can reduce costs of import. We have thus introduced a farming business model that features maize, soy and wheat planting to help rebuild the country's agricultural sector."
The company says it has developed two 10,000-hectare farms in Angola and will invest $5 billion in a 500,000-hectare farm next year.
The investment in agriculture could help the Angolan government become less reliant on its oil industry and improve its food security.
CITIC Construction says its investments have gained support from Angolan farmers.
The company has also invested heavily in the country's school system.
In May 2014, the CITIC BN Vocational School was founded in Luanda to provide free vocational training for impoverished city youths from ages of 16 to 25. The students can learn skills in electrical and mechanical engineering and will eventually be recruited by the Chinese company after graduation.
CITIC Construction is also a sponsor for the Confucius Institute at Agostinho Neto University in Luanda and has sponsored table tennis and beach volleyball events.
Since 1999, when China encouraged its State-owned companies to invest overseas, CITIC Construction has conducted almost 95 percent of its work abroad. It says that 60 percent of its business is in the African market.
"We are confident that we will expand projects across Africa in 2016," Liu says.
CITIC Construction plans to kick off new projects in Kenya and Cameroon at the end of this year.