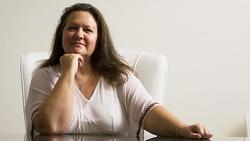 Mining billionaire Gina Rinehart is teaming up with the China National Machinery Industry Corporation to acquire a 5,000 ha dairy farm in Queensland to supply infant formula to China.
Bloomberg | 14 November 2014
Gina Rinehart plots $500m China baby formula move
Mining billionaire Gina Rinehart is planning a $500 million investment to supply infant formula to a Chinese market forecast to almost double over three years.
Hope Dairies, controlled by Mrs Rinehart's closely held Hancock Prospecting, is seeking to acquire about 5,000 hectares (12,400 acres) of farmland in Queensland state and is targeting first production in the second half of 2016, according to co-investor and director Dave Garcia.
The move comes as Australian miners including Fortescue Metals Group's founder expand into food production to tap rising demand from Asia's middle classes. It positions Rinehart, the richest woman in Asia, to compete in an infant formula market in China forecast to swell after the world's most populous nation loosened its one-child policy last year.
"There's another 50 million mouths probably coming online," Garcia said. "There's room for everyone in this right now."
Hope Dairies, named after Rinehart's mother, is seeking pasture in Queensland's South Burnett region and a processing facility in Mary Valley. The dairy farm, which is planned to be among Australia's biggest, may produce as much as 30,000 metric tons of formula a year, Garcia said by phone from Hong Kong. The facility will also supply UHT milk.
All the output is intended to be exported to China and the company may seek investment from a state-owned entity tasked with completing dairy deals, he said.
Free-trade deal
A free-trade deal with China, seen boosting dairy exports, may be signed next week, Australia's Prime Minister Tony Abbott said in a November 10 interview.
"There is an enormous opportunity for the processors here," Michael Harvey, a Melbourne-based analyst at Rabobank International said by phone. "Offshore markets for infant formula are growing rapidly and China is the standout given the size of the population and the birthrate they have."
The market in China for infant formula may grow to NZ$33 billion by 2017 from about NZ$18 billion now, according to Fonterra Co-operative Group, the world's biggest dairy exporter.
Rinehart's planned operation would employ about 400 people, adhere to stringent biosecurity standards and produce about 70 to 75 percent of its own milk from a herd of about 16,000 Holstein cattle, including 10,500 milkers, according to Garcia. The Van Diemen's Land has Australia's biggest dairy operation, milking about 19,000 cows on holdings in Tasmania, according to its website.
Tighter standards
China in May tightened standards on imported formula following concerns over contamination. Fonterra had exports of two products suspended for 15 months from August 2013 after a botulism scare that was later proved to have been a false alarm. In 2008, locally-made milk powder contaminated with the chemical melamine killed at least six infants in China.
Rinehart's dairy will seek to use labeling that would allow customers to check the specific animals that produced milk used to create each package of powder, Garcia said.
Demand in China may rise further as the birthrate increases by 2 million a year due to the easing of the one-child policy, according to the National Health and Family Planning Commission. Urbanization may also bolster demand for formula, with mothers in towns and cities less likely to breastfeed than women in rural areas, according to the World Health Organization.
Once in a lifetime
Australia's food and agriculture sectors must seize on a chance to feed Asia's expanding middle class, Trade Minister Andrew Robb said September 15 at a Melbourne dairy conference. "The opportunities are immense and they are once in a lifetime, almost once in a millennium what we're seeing going on around us," Robb said. "We have to position ourselves."
Rinehart, Hancock Prospecting's chairman, has long ties to agriculture and spent part of her childhood growing up on the Mulga Downs station in Western Australia. Her father Lang Hancock's discoveries of iron ore in the state from the 1950s spurred the nation to become the world's biggest exporter of the steelmaking ingredient and helped make his daughter the country's richest person, according to the Bloomberg Billionaires Index.
Hancock in July purchased a 50 percent share in two cattle ranches in Western Australia's West Kimberley, while Andrew Forrest, the billionaire founder of iron ore producer Fortescue Metals in May acquired Harvey Beef, Western Australia's only licensed beef exporter to China.
Export growth
Rio Tinto Group, Rinehart's partner in the Hope Downs iron ore mine, is one of Australia's biggest cattle ranchers, with Chief Executive Officer Sam Walsh identifying agriculture as an opportunity in July.
Milk producers are also expanding exports, with Norco Co- operative Ltd. agreeing to more than double fresh milk sales into China and Bega Cheese Ltd. striking a distribution deal to supply UHT milk to the nation.
Expansions by domestic infant formula producers in China risk moving the market into oversupply, UBS AG analysts led by Christine Peng wrote in a June 7 note. Total consumption in China may peak in 2018, according to Macquarie Group Ltd.
Still, exports of whole milk powder, which includes infant formula, from Australia to China almost tripled to 17,592 tons in the 12 months through July 2013 compared to the previous year, according to data from Dairy Australia, an industry researcher. Australia is the third largest whole milk powder exporter, according to U.S Department of Agriculture data.
Australia produces at least 70,000 tons of formula a year, according to Dairy Australia calculations. Murray Goulburn Cooperative, Australia's biggest milk processor, declined to disclose its annual output. Bega Cheese has added a new plant to produce as much as 16,000 tons of formula a year, it said in October.
"They are going to be reliant on imports for a good while and they are looking to get clean material, and material that is identifiable into the market," Garcia said. "The Chinese government wants to be in business with us."
---
The Australian | 12 November 2014
Rinehart in China dairy JV
by Rick Wallace
Mining magnate Gina Rinehart plans to join forces with a Chinese industrial giant in a $500 million joint venture to export infant milk powder from Queensland to China.
It is believed Mrs Rinehart's flagship company Hancock Prospecting will be the majority stakeholder in the Hope Dairies partnership, which will own farmland and build a processing facility in southeast Queensland.
The Chinese partner is believed to be the China National Machinery Industry Corporation, a state-owned enterprise that has been looking to invest in Australian dairy operations for some time.
The Beijing-based group is a sprawling conglomerate with more than 100,000 employees.
It has interests in manufacturing farm machinery and has been ramping up its investments overseas.
The move, expected to be announced by Queensland Premier Campbell Newman tomorrow, comes just days ahead of the ­expected announcement of a free-trade agreement between Australia and China that will potentially lower tariffs on dairy exports from Australia.
Much of China's imported ­infant formula now comes from New Zealand, which has a free-trade pact with Beijing.
Demand for imported milk powder in China has soared since a poisoning scandal in 2008 turned consumers off the local product.
The Australian understands the Hope Dairies joint venture has ­recently invested in a number of farms in southeast Queensland to supply the proposed plant.
While mining remains Mrs Rinehart's main game, it is ­believed her move is motivated by her belief in Australia as a food bowl supplying produce to rapidly growing Asian markets, and her desire to ensure the sector remains Australian owned.
She has recently moved to buy a 50 per cent stake in two large ­cattle properties in Western Australia's Kimberley for $40m as she steps up her financial interests in the sector.
A spokesman for Hancock Prospecting said: "Mrs Rinehart has had a life-long association with agriculture in Australia and this export project will be a great boost for the Queensland dairy industry and the country."
Chinese investors have been circling Australia's agricultural sector for years and last year ­famously bought Cubbie Station, the largest irrigated property in the southern hemisphere.
Recent interest from China has been in milk production. The Australian recently revealed that the Chinese-government-owned Beijing Agricultural Investment Fund had committed to spending $3 billion on Australian dairy, beef, lamb and aquaculture assets.
Details of the Hope Dairies venture are expected to be ­revealed tomorrow, when Mr Newman presides over the signing of a memorandum of understanding between Mrs Rinehart and the Sinomach group.
Mrs Rinehart, Australia's richest person, recently bought a $14m property in Brisbane, setting a new record for a house sale in the Queensland capital.