AFJN | 29 October 2014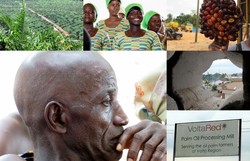 Investigating Herakles Farms in Ghana: AFJN's report
As part of our campaign to expose, oppose, stop and prevent the ongoing massive land grabbing in Africa, Africa Faith & Justice Network (AFJN) traveled to Ghana's Volta region to learn more about a potential land grab deal by Herakles Farms (HF), a New York based agribusiness. HF has a history of corruption, bribery of government and local officials, in- timidation of landowners, violence and legal action against local activists and community organizers who oppose its land grabbing efforts. Such was the case in Southwest Camer- oon. Our contacts informed us that HF had acquired a large tract of land in the Volta Re- gion of Ghana. Less than a year ago the property was sold to a British company, Volta Red. What we found out confirmed our hypothesis and more.
Land grabs large and small threaten Africa and must be stopped and reversed before it is too late. This story from Brewaniase, a town in Ghana's Volta Region, is a warning to landowners in Africa and irresponsible African leaders who are carelessly mortgaging future generations' inheritance during this global rush for land in Africa.
What happened with Herakles Farms in Ghana? How is the community doing now? What is the prognosis for the new owner of the land?
Find out by clicking here to read our report (pdf).