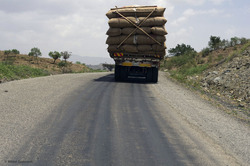 Truck loaded with cotton from the Omo Valley.
just-style | 12 November 2014
H&M disputes Ethiopia cotton land-grabbing claims
by Leonie Barrie
Fashion retailer Hennes & Mauritz has instructed its suppliers to ensure they do not use cotton from the Omo Valley region of Ethiopia, where there is an increased risk of land-grabbing - but admits it cannot provide an absolute guarantee.
Land-grabbing is a major issue in Africa, where companies and governments lease large areas of land without consent from local communities - and was highlighted in a Kalla Fakta (Cold Facts) documentary aired last night on Swedish television, which claimed cotton used for the production of H&M'scomes from areas subject to land grabbing in Ethiopia.
"We have also established an action plan that will be followed up by our staff on the ground in Ethiopia," H&M said in response to the claims, adding: "We are now working to best be able to deal with the issue in our own production linked to cotton production."
The retailer has been working with five Ethiopian suppliers since the summer, and in September teamed up with Swedish state investment firm Swedfund to try to improve social and environmental standards in the country's apparel sector. H&M also said this week that it has joined forces with Swedish investment company Kinnevik to invest SEK8.8m (US$1.2m) over the next three years to help drive social change in Ethiopia.
It said the issue of land-grabbing was included in its risk assessment on Ethiopia.
"Our risk assessment includes the suppliers that we have a direct business relationship with. The results showed that land-grabbing is not present in the area where the textile suppliers that we work with are."
But the retailer admitted it does not look at land-grabbing "further down the production chain linked to the cotton used in our products."
It added: "The cotton used in our products comes from different regions and we therefore cannot guarantee that the cotton fibre is not from the affected areas. Today we can only trace organic cotton and sustainable cotton from the 'Better Cotton Initiative."
The retailer is already the world's biggest buyer of organic cotton and is aiming to buy 100% of its cotton from more sustainable sources by 2020, which it says "will allow for better control."