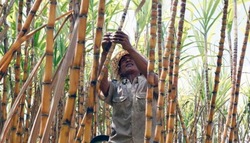 A man harvests sugarcane on a farm in Cambodia in 2010. Sugar plantations have been at the heart of multiple land disputes in recent years. (Photo: Heng Chivoan)
Phhom Penh Post | 11 November 2014
Mitr Phol disputants to testify
by Sean Teehan
Representatives of Oddar Meanchey villagers who allegedly lost their homes in a 2008 land grab by Thai-owned sugar giant Mitr Phol are hopeful a settlement may soon be reached after they testify before Thai human rights officials today.
Witnesses representing more than 400 families are slated to give evidence to the National Human Rights Commission of Thailand, accusing Asia's largest sugar producer of brutally taking their homes in an illegal land concession, Equitable Cambodia executive director Eang Vuthy said yesterday.
"There was a lot of violence," Vuthy said of the 2008 incident. "The entire village was burned down, some people were attacked, some people were arrested and put in jail and many people migrated to Thailand because they had nothing left after the eviction."
A report by Equitable Cambodia and NGO Inclusive Development last year said that Mitr Phol had declined to communicate when asked about the evictions.
However, Vuthy said, the company has been in contact recently, seemingly eager to settle.
"I have discussed with the company recently and they said they want to solve this problem," said Vuthy, who added that they may discuss a possible settlement in detail this week. "What kind of offer, we have not discussed in detail."
Officials from Mitr Phol could not be reached yesterday, but it has previously said it had "followed a land concession process prescribed by law".
More than 1,000 families lost their homes in the January 2008 land grab, Vuthy said yesterday. But by the time villagers, with the assistance of Equitable Cambodia, filed suit with the Thai rights body last year, all but about 400 had migrated, having lost their livelihoods in Oddar Meanchey. Many of those who stayed went to work for Mitr Phol on land they once owned.
Chan Vichet, a community coordinator for Equitable Cambodia, yesterday expressed hope that villagers, company reps and Thai human rights officials can reach an agreement.
"We hope they have a good result from the meetings, because Thailand is a democratic country that respects human rights, and the company is Thai," Vichet said.
ADDITIONAL REPORTING BY PHAK SEANGLY