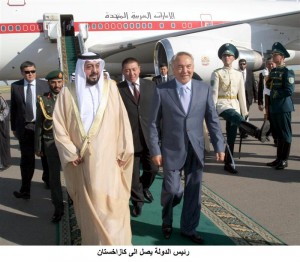 Financial Times | July 16 2008
By Andrew England in Abu Dhabi
The United Arab Emirates is seeking to invest in agricultural projects in Kazakhstan as part of its efforts to secure food supplies.
Sheikh Khalifa bin Zayed al-Nahyan, the UAE's president, who is on a three-day trip to the former Soviet state, said the UAE was looking to diversify its sources of food imports, according to the UAE's news agency.
Skyrocketing food prices – particularly wheat and rice – have caused oil-rich Gulf countries, which import most of their food, to consider developing agricultural projects in other countries. Food costs have been an important driver behind double-digit inflation throughout the region.
The UAE imports about 85 per cent of its food.
Sultan bin Saeed al-Mansouri, the UAE's economy minister, was quoted last week as saying that the nation was also looking to buy agricultural land in Vietnam, Cambodia, Africa and South America.
The Abu Dhabi Fund for Development is already working on developing 70,000 acres of agricultural land in Sudan to produce crops such as corn and alfalfa, a feed for livestock. The fund, which is based in Abu Dhabi, the UAE's capital, was considering similar projects in countries such as Senegal and Uzbekistan, officials have said.
A UAE-based private equity firm, Abraaj Capital, has also said it is working with the government on strategic agribusiness investments in Pakistan.
Other Gulf states considering similar projects includes Saudi Arabia, which has been in talks with a number of countries, including Sudan, Ukraine, Pakistan, Turkey and Egypt, to develop massive projects to grow crops including corn, wheat and rice.
However, some countries, like the US, are also concerned that bilateral agricultural agreements that tie up produce could distort world food markets.