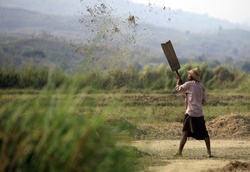 Photo: Reuters
MIzzima | 7 November 2014
NGOs fear draft land use policy fails to deal with land grabs, farmers' rights
by Phyu Phyu Zin
NGOs and farmers' networks are calling for a more inclusive process than the Myanmar government has used so far to develop a national land use policy that is just and fair.
More than 30 organizations of civil society and farmers networks came together in a workshop November 1 and 2 in Mae Sot, Thailand to review and analyze the draft national land use policy of Myanmar, according to their statement released November 6.
In their statement, the groups said they welcomed the opportunity for the public to provide comments and input into Myanmar's National Land Use Policy draft. However, review and analysis of the policy draft during the recent workshop made it clear that there are many flawed and undemocratic aspects of the policy and process in which it was developed.
Speaking on behalf of the group, Daw Bauk Ja, from the Hu Kawng Farmers' Network, told Mizzima that the NGOs are calling for a re-drafting of the policy using input from small scale farmers, ethnic groups, women, youth and other peoples and communities who will be most affected, as well as parliamentarians and independent experts.
Referring to the statement, she said their workshop found many flawed and undemocratic aspects of the policy and process, including failure to include the voice of those directly affected.
According to their statement, the draft policy did not prioritize and protect small-scale farmers and minority ethnic peoples, but prioritizes and gives special privileges to business investors, which could spark more land grabs and create more land problems within the country.
There are no measures mentioned to solve the previous military government's land grabs and the current land problems in the country, and there are no explicit measures giving minority ethnic peoples decision-making power and which could further delay the peace-building and national reconciliation process and lead to further land conflicts.
One concern was that although the policy mentions the protection of customary land practices, it does not legally recognize and guarantee freedom of customary collective land ownership, land use and land management of ethnic groups. The term "permanent taungya" appears to ignore the social, cultural and ecological value of customary shifting cultivation practices, and to encourage instead a transition away from customary shifting cultivation practices to permanent agriculture, the statement says.
In addition, there are no provisions in the policy draft to address issues of land distribution, restitution, and the right to return for refugees and displaced people.
Finally, the draft land use policy does not align with international human rights principles and standards, including the principle of free, prior, informed consent, and the right of return and the right of restitution, the NGOs say.