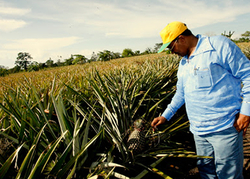 President Jakaya Kikwete surveys a well cultivated pineapple farm at Kiwangwa area in Bagamoyo, Coast Region. (Photo: IPP)
Daily News | 7 November 2014
Tanzania: Prisons, Turkish firm in farming partnership
A TURKISH agriculture firm, Tarbim will invest billions of shillings to establish a modern rice farm at Tanzania Prisons Bagamoyo farm.
Tanzania Prisons Commissioner General, John Minja, said they have already signed an agreement with Turkish firm which is due to start work this year.
"They are currently mobilising resources including importing farm equipment to start work," Mr Minja said. He said the department has huge plot of land which is not fully utilised in Bagamoyo.
Mr Minja said they have also signed memoranda of understanding (MoU) with Wazo hill based Twiga Cement for the extraction of lime for cement manufacturing, Government Employees Pension Fund for the construction of shopping malls at Kihonda in Morogoro and Karanga in Moshi.
"We have also signed MoUs with Tanzania Breweries Limited for cultivation of barley at Isupilo in Iringa, Mollo in Rukwa," he noted.
The Commissioner General further noted that in a bid to become self reliant, the Force is seeking private investment to exploit its vast natural resource potential.
"We want to strengthen our economic production activities under Magereza sole proprietor," he argued.
He said the force has surveyed and obtained title deeds for all of its land in the country with clear land use plans for their mandatory custodian of prisoners services while the other part will be used commercially.
University of Dar es Salaam senior economic lecturer, Dr Haji Semboja, challenged the Tanzania Prisons to exploit its vast potential and stop relying of Treasury subventions.
"You should wean yourself from depending on government subsidies to existing because you have both the land and human capital to do so," said Dr Semboja while addressing senior prisons and government officials discussing a National Prisons Policy.
Dr Semboja's observation was backed by retired Inspector General of Police, Saidi Mwema who dared Minja to ignore critics and make a decision to work with the private developers.
"We have done so at Oysterbay police barracks despite attracting criticism and resistance,' Mr Mwema said. He pointed out that the force has a huge and efficient construction section which erected Kilwa road police quarters residential flats.
"If we have done it with the little resources that the Police force has what about you with the vast potential which you have," Mr Mwema argued.
Currently, Magereza sole proprietor company has 23 projects in agriculture, livestock keeping, manufacturing, tailoring and mining which need capital to exploit fully and make profit.