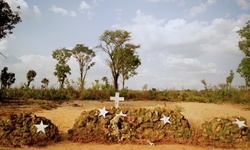 A graveyard for soldiers in Cuito Cuanavale, Angola. (Photo: Klas Lundström)
The Guardian | 6 November 2014
Who owns Angola's land? A problem that needs quick resolution
As people displaced during the civil war return to the countryside, the land issue is one of Angola's biggest challenges
by Klas Lundström in Cuito Cuanavale
What would the people of Angola be without land? Teresa Quivienguele thinks for a moment, then says: "We're nothing without land. Land is our mother, a tool to survive and evolve as people."
At the Angolan NGO Action for Rural Development and Environment's (Adra) headquarters in central Luanda, where Quivienguele has her office, a map of the country covers the wall. There are many things to do, she says, and being in charge of Adra's social projects means doing a lot of work. "The land issue is Angola's biggest challenge," she says.
Land became state-owned after independence in 1975. But since the end of the civil war in 2002 – and with land reform in 2004 – things have started to change. Foreign companies now invest in infrastructure, minerals, diamonds, oil and land. But the risk is that the rural population gets left behind as large areas are leased to foreign farming and mining companies, instead of providing for those who fled to the cities during the war but are now returning to the countryside. "Angola needs less bureaucracy when it comes to protect rural land that's been in the possession of families without any legal papers," says Quivienguele. "It requires strong leadership that can stir Angola into a sustainable future."
Highway 28, in vast Cuando Cubango province in Angola's south-east, used to be called the road of death. It ends at the site of the cold war's last, and one of Africa's bloodiest, battles. Cuito Cuanavale involved the People's Movement for the Liberation of Angola (MPLA) government and its Cuban and Soviet allies against National Union for the Total Independence of Angola (Unita) rebels supported by South African troops and CIA advisers. It ended in a stalemate, and the withdrawal of foreign troops from Angola. The battle lasted for six months between 1987-88 and claimed, officially, 8,000 lives.
Today, Cuito Cuanavale is trying to build its future. It is not easy: infrastructure is lacking and there are few investors. Politicians, though, say a bright future is at hand, through large-scale extraction of Cuando Cubango's mineral resources and turning the roads into an oil export highway to neighbouring Zambia. A massive memorial site has MiG fighter planes, tanks and firing ramps next to a modern airport.
The only place to stay is a mosquito-infested pensão. Do they have rooms available? "Sure we do," a man says. "100,000 kwanzas (£600) per night." It's hard to tell whether it is a bad joke or the best way to keep out strangers. At Cuito Cuanavale's sole health clinic, the administrator, Fernando Visesa, explains why the future looks bleak. "Malaria never ceases to attack our community, we can never rest. Malaria kills a hundred people every year, just in this town." Visesa, who served as a military doctor during the battle, says: "It's getting warmer, and that means more diseases, while farmers find it very difficult to [grow crops]."
Rusty tanks lie by the roadside, and children play inside them. A family has gathered under a tree for shade. People are waiting for rain – last year saw the worst drought in southern Angola in 30 years. Unicef estimates that 1.5 million people in the area are food insecure, a region with high maternal deaths and one of the world's lowest life expectancies. Yet Angola is one of the world's fastest growing economies.
People lack basic necessities such as fresh water and electricity, and mobile coverage. Water must be collected from a river that contains landmines. The Halo Trust, a de-mining organisation, has operated in the region for almost 10 years. "These lands won't be mine-free until 2025, at the earliest," says Eason Luciano Moyo, chief of operations in Cuito Cuanavale. "People have to wait until then before they can start to use their lands."
The war displaced 4.1 million Angolans, and many lived in provinces that are now of interest to the global market. The day Cuito Cuanavale is finally declared mine-free will probably mark the beginning of an influx of mining companies and foreign agriculture investments. Therefore, according to Allan Cain, director of the NGO Development Workshop, a solution to the land issue is a matter of urgency. "It was when the civil war ended and people returned to their native lands, after years as internally displaced, that land became a political issue. These are conflicts that have emerged, and will increase over time as agriculture and land accumulation becomes more important."
• Klas Lundström is a Swedish freelance journalist and author of several nonfiction books