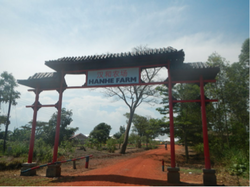 SAIS China Africa Research Initiative Policy Brief | 310 October 2014
The political ecology of chinese agriculture investment in Uganda: The case of Hanhe Farm
Hanhe Farm, located in Nakaseke Administrative District, is the first private Chinese land-based agriculture enterprise in Uganda. This case can be used to examine the political context of land acquisition in Uganda, the ecological impact of land-use changes, and local community experiences and responses to conflicts over access to land and protection of ecological rights.
How is Chinese agricultural investment progressing in Africa? Research reported at the SAIS-CARI conference in May 2014 suggests the topic is poorly understood and that investment is both far lower and far more problematic in implementation.
In our first CARI policy brief, Josh Maiyo looks into Chinese private farming in Uganda. Media reports depict at least 12,000 hectares of private Chinese agricultural investment. Doing fieldwork in Uganda, Maiyo found only one farm, Hubei Hanhe, with 160 hectares. His story of the Hubei Hanhe Farm is a cautionary tale of a much more contentious, challenging investment environment than is often assumed.
Josh Maiyo is a PhD Research Fellow at VU University and a Research Affiliate at the Makerere University Institute of Social Research in Kampala, Uganda.
Access and download the full SAIS China Africa Research Initiative Policy Brief here:
http://sais-cari.org/2014/10/27/sais-cari-policy-brief-1/