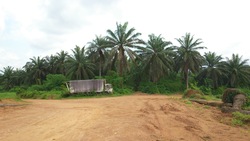 Existing oil palm plantations in Cross River State, Nigeria that are part of a concession acquired by PZ-Wilmar (Photo: GRAIN).
Business Day | 4 November 2014
PZ-Wilmar JV calls for integration policy In palm oil sector
PZ-Wilmar joint venture (JV) project in oil palm business worth $650 million, which had acquired 26,000 hectares of oil palm plantations in Cross River State, is asking the Federal Government to propose a backward integration policy in palm oil sector, as it did in cement and sugar where the country's annual production has jumped tremendously.
Tunde Oyelola, vice chairman, PZ-Wilmar, told Akinwunmi Adesina, minister of agriculture, who visited the companies' oil palm plantations in Calaro and Ibiae near Calabar on Saturday, that, with a backward integration programme, the JV between the two international companies would aggressively expand the nation's palm oil production to 240,000 hectares of plantations, employing over 250,000 within five to six years.
According to Santosh Pillei, managing director, PZ-Wilmar, their JV project under a robust backward integration programme would be saving Nigeria up to $300 million yearly in foreign exchange, and drastically reduce the current huge crude palm oil (CPO) importation.
Pillei said, soon their joint agricultural business would generate 30,000 direct and indirect jobs in the country, when it completes planting of the oil palm plantations by 2015, saying they had developed 2 million high yielding oil palm seedlings, imported from Malaysia, with each palm tree having capacity to produce 30 bunches of palm fruits, and quality palm oil volume.
Currently, the JV is employing 2,500 direct jobs in Cross River, where hundreds of workers are engaged in planting and nursing oil palm seedlings in plantations at Calaro, Ibiae, Eyop, Kwa Falls, and Oban.
In the same token, should the Federal Government pull through with the palm oil backward integration programme, Nigeria's palm oil production, which is suffering from 350,000 metric tons deficit, despite a domestic consumption of 1.3 million to 1.6 million tons, would climb tremendously in five to six years.
Already, the PZ-Wilmar JV of which $165 million has so far been invested, led to the building of a 1000-ton state-of-the-art oil refinery in Lagos, which produces the Mamador and Devon King's brands of cooking oil.
The minister had visited parts of the PZ Wilmar 26,000 hectares of oil palm plantations scattered in estates in the Cross River. It emerged that Nigeria, for neglecting its oil palm production, which had earned it the world's largest producer in the 1960s, is currently missing out in the 50 million ton global palm oil demand, worth billions of dollars.
Pillei, while addressing the minister, said: "Our goal is to help support the development of a sustainable, profitable and self-sufficient palm oil industry in Nigeria."
"We will invest a total of $650 million (to date – $165m invested) into the development of sustainable palm oil in Nigeria. We have developed 26,000ha of palm oil plantations. We have built a state-of-the-art refinery in Lagos State. We are a member of POFON and aim to help revitalise the palm oil industry by reducing Nigeria's reliance on imports.
"We want to create a flourishing palm oil industry that benefits the wider Nigerian economy. We estimate our investment will create up to 30,000 direct and indirect jobs. Over 2,500 direct in the last 36 months. Our investment will help lower the import deficit of 350,000 tons within five to six years. We are purchasing crude palm oil from existing palm oil plantations. Investments in capacity building and training future plantation experts."
He said the oil palm JV companies "aim to support the productivity and profitability of oil palm smallholders by working with CARES and DFID through MADE to evolve a viable Small Holder Scheme; adding that series of meetings were held with all stakeholders; undertook a study visit to Ghana with proposed smallholders to see first-hand the success of the scheme in other countries; and evolving a strategy that will suit Nigerian would-be small-scale holders, in line with our commitment at inception of the project."
The companies are also investing in local communities and the environment to support a long-term vision by protecting the local environment; operating to the highest international standards; conserving natural resource and biodiversity; developing critical infrastructure; investing in road structures; improving access to water; funding community projects; annual royalty fee (of N500 per hectare) under the PZ Cussons Foundation.
To achieve all these, the PZ-Wilmar oil palm JV companies are requesting the Federal Government to urgently put in place a backward integration policy in the palm oil sector.