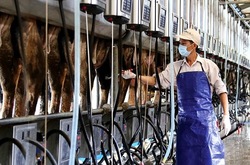 VietNamNet | 24 October 2014
Investors pour cash into large-scale agricultural projects
With the Economic Large-Scale Production (ELSP) model being implemented more frequently in Vietnam, more companies are looking to invest in agricultural production as it becomes more profitable and efficient.
In late September, for example, a Qantas Airways' airplane brought 242 Australian high-yield pregnant cows to Noi Bai Airport in Hanoi. This was the second cow consignment imported by Vinamilk, the leading dairy producer in the country.
Prior to that, Dang Van Thanh, a renowned banker, stirred up the public when he quit the banking sector in order to expand his investments in agriculture.
Since then, he has taken over a series of sugar companies and set up the Thanh Thanh Cong sugarcane and sugar research and development center.
Standard Chartered Private Equity has also announced a plan to join the agriculture sector when it made a deal to buy $90 million worth of An Giang Plant Protection Company's shares.
Some years ago, when Hoang Anh Gia Lai Group, a real estate developer, and other financial investors, began pouring money into agricultural projects, analysts commented that the investment trend would not last, and that investors would withdraw capital from the risky sector once the real estate and finance markets warmed up again.
However, contrary to predictions, the agriculture projects turned out to be a growing trend.
An economist commented that it was a wise move to pour money into agriculture. He quoted a report of the United Nation's Food and Agriculture Organization (FAO) as saying that global food demand would increase by 1.4 percent per year in the 2015-2030 period.
The organization predicted that by 2050, the world would need 3 billion tons of cereal and 455 million tons of meat to satisfy demand.
However, the economist stressed that Vietnam would fail if it maintained small-scale agricultural production.
It needs to expand the scale of output in order to minimize costs and optimize the efficient use of resources. Economies of scale save on costs.
ELSP is the way the next-generation agricultural investors are now following.
Vinamilk, TH True Milk and Hoang Anh Gia Lai Group, for example, are applying Israeli technologies in their production.
The An Giang Plant Protection Company has also been developing a sustainable material growing area by providing seeds, pesticides and fertilizers to farmers at the interest rate of zero percent.
It has promised to buy rice from farmers at market prices and sell shares to 6,000 farmers at half the market price.
Meanwhile, Dang Van Thanh believes that mastering seed technology is the key for sustainable development.
The Thanh Thanh Cong research and development center, with investment capital of VND30 billion, has imported 50 sugarcane varieties, and plans to select varieties suitable to local conditions.