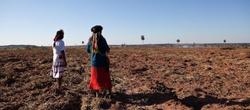 Swedish pension fund AP2 plans to conduct an external audit in response to criticism by Swedwatch for not disclosing the precise locations of its Brazilian farm holdings.
Investments & Pensions Europe | 21 October 2014
AP2 targets tar sands, farmland for greater scrutiny
by JONATHAN WILLIAMS
AP2 has divested 20 coal and tar sand companies due to concerns that many of its extraction projects will be unprofitable.
Publishing its annual assessment of its corporate governance practices, the Swedish buffer fund also said it would be conducting an independent audit of its farmland holdings in Brazil to ensure it was in compliance with its obligations under the Principles for Responsible Investment (PRI), following criticism of how it can conducted itself.
Chief executive Eva Halvarsson said the fund had been criticised by NGO Swedwatch, which monitors Swedish business activities in emerging markets, for not disclosing the precise locations of its Brazilian holdings.
"We have taken this criticism to heart and have subsequently worked actively on improving transparency," Halvarsson said.
She added that AP2 would be working with an external auditor how it had been applying the Principles for Responsible Investment in Farmland.
At the end of June, 1.2% of its SEK280bn (€30.4bn) was invested in agricultural land, partially through the TIAA-CREF Global Agriculture that has also attracted interest from a number of large Canadian institutional investors.
It previously confirmed that it would grow its capital commitment to the joint venture by $750m (€549m).
In the fund's annual corporate governance report, Halvarsson also said that AP2 had completed a year-long study of the risks associated with its energy company holdings, resulting in the sale of 20 holdings.
The divestment from the 12 coal and eight oil and gas companies, worth SEK840m in total, was seen as necessary due to the risk of exposure to stranded assets.
Halvarsson said: "We have identified several energy companies that feature high relative exposure in high-cost projects such as oil-extraction from oil [tar] sands.
"The fund believes such assets could be at serious risk of being stranded, and that this risk not yet is priced in the market."
However, the report argued that fossil energy remained a "vital commodity in contemporary society", despite a shift towards a low-carbon economy.
The shift has seen AP4 pledge to refocus its entire equity portfolio to low-carbon investments.
The fourth buffer fund in September announced it was a founding member of the Portfolio Decarbonization Coalition, alongside asset manager Amundi which worked to develop a new low-carbon index.