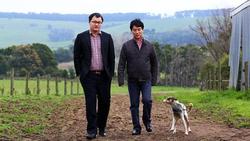 Ningbo's Harry Wang and Yin Chong Zhang on a dairy farm they purchased near Kernot, Australia. Picture: Aaron Francis (Photo: News Corp Australia)
The Australian | 20 September 2014
Foreign investors get a taste for dairy industry
by Sue Neales
AUSTRALIA'S $4 billion dairy industry is the new flavour of the month among foreign investors, with global pension funds, food companies and wealthy individuals turning their focus from New Zealand's fertile dairy plains towards Victoria and Tasmania.
At the same time, the local dairy industry is starting to adapt to the idea of greater foreign investment as a positive step, in an industry hamstrung for the past decade by low milk prices, high debt levels, poor profits and falling milk production.
The changed focus was evident at the packed Dairy investment conference organised by Austrade and Dairy Australia this week in Melbourne, with Chinese companies, major investment banks and fund managers focused on agribusiness.
It was also clear from the news that China's Ningbo Dairy Group had just acquired three farms in Gippsland near Kernot, is looking to buy several more, and plans to build a $6 million milk processing plant to fly fresh Australian milk to China within the year.
Ningbo's vice-president Harry Wang said the company saw great potential in Australia, but believed average milk production levels per cow were too low and could be greatly improved with better genetics and improved farm management.
Wang said Ningbo, which has 20,000 cows on 30 farms and processes their milk in 15 different factories around the Zhejiang province, wanted a slice of the action in the Victorian dairy industry because land was cheap and Australian fresh milk so highly regarded and priced in China.
Its three farms in the fertile Bass River Valley have already been drained, sown to new pastures using new tractors, planted out to crops for soilage and a new milk processing plant commissioned from Visy Australia.
"Our goal is to export our milk back to China and help the industry here too," said Wang. "There is huge potential in Australia but you have problems with too many dairy farmers being too old, young people not wanting to work on your farms and your farms being too small; I think that is why your quality is good but your production levels are slipping."
The same theme voiced by Wang on his green Gippsland farm was repeated in Melbourne by many foreign investment managers and agribusiness consultants.
The conference heard the Australian dairy industry remains poised for — and in need of — a greater level of investment to lift productivity levels, milk more cows and to encourage more farmers to transform their properties from beef cattle and sheep to dairying. In the past 12 years, Australia's milk production has fallen from its peak of 11.2 billion litres in 2001 to 9.2 billion litres last year. Between 2012 and 2013 there was a drop of 280 million litres of milk in just one year, as ageing farmers left the industry in despair at constantly low farmgate milk prices.
Yet, as Dairy Australia chief Ian Halliday told the conference, Australia's dairy industry appears perfectly placed to meet the rising demand for dairy products from Asia. But it will only be able to do so if milk supply increases.
Ambitious targets are already being set, with Murray Goulburn boss Gary Helou telling The Weekend Australian Tasmania with its good rainfall and expanded irrigation grid has the potential to become the "next NZ Southland" — able to increase its milk output from 800 million litres annually to a massive 3 billion.
The Dairy Investment conference in Melbourne also heard that Chinese companies were not alone in looking to buy dairy farms.
Pension funds and private equity companies from the EU, Scandinavia and the US are also moving to buy directly or invest indirectly in farmland in Australia, believing it to be greatly undervalued compared to similar dairy farms in New Zealand.
There is also resentment towards NZ's changed laws relating to foreign investment, which now require any purchase of a farm greater than five hectares by a foreigner or foreign entity to get the approval of the government's Overseas Investment Office.
Even then, approval will not be granted unless it can be shown that the purchase is in NZ's national interest and that the majority of company office-bearers or directors reside permanently in NZ.
There are signs Australian farmers are growing more comfortable with the emergence of corporatised dairy farms funded by foreign investment.
Murray Goulburn chairman Phil Tracy spoke of the great success of MG's partnership with a Swedish superannuation fund, which sees solid land rental income returned to the fund while young Australian farmers are helped to buy and develop farms.
He said foreign investment and profit-driven enthusiasm was essential to replace what had become a "culture of complacency" with a reinvigorated "culture of excellence".
"We looked at what was stopping the industry growing … and it was the lack of young farmers coming into the industry — they couldn't afford to buy dairy farms that cost more than $3m each," Tracy said.
"So we matched the overseas pension fund's cash and jointly bought nine dairy farms, and then found good young operators to lease them, with the overseas fund owning the land and receiving the guaranteed lease income — it really suits a long-term investor looking for a steady return on capital."
Another model involving foreign investment is Ace Farming, run by former global trader and financier Jeremy Bayard. He has established a company structure that has now bought 15 dairy farms in Gippsland, western and northern Victoria, running more than 9000 cows.
With a single average dairy farm running 500 cows costing about $4m-$5m, Bayard says the only way to develop economies of scale is with an inflow of foreign investment. Nearly 99 per cent of shares in his private company are owned by global institutional shareholders and pension funds, with their investment in Ace Farming co-ordinated by the Singapore -based Duxton Capital.
"These companies want to invest $100m to $200m; the small size of farms here is an impediment to that because that would be an awful lot of 500-cow farms they would have to identify, buy and manage," Bayard said. "That's why I don't think we will see a flood of foreign buyers coming in to buy small farms; I think it will be a more steady flow of institutional investors looking for a more corporate agriculture structure or ­vehicle."
Detlef Schoen, group head of Farm Investments for global Aquila Investments, agreed the only model that allowed companies like his to invest in the Australian and NZ dairy industry was one of co-investment.
"Co-investment in clusters of farms allows you to decorporatise agriculture and to stay farming at the family level with all the benefits of management and co-ownership that brings," Schoen said.