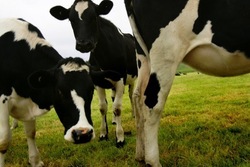 Investments in ACE Farming are channeled through Duxton Capital of Singapore.
The Land | 20 Otober 2014
QAF exits Victorian dairy with sale to ACE Farming
by MATTHEW CRANSTON
Listed Singaporean company QAF, ­formerly known as Bunge, has sold out its last dairy farm in Australia to the European pension fund-backed ACE Farming for close to $5 million.
QAF subsidiary Rivalea, which ­happens to also be the largest producer and exporter of pork meat in Australia, sold its farm Oxdale, south of Cobram, on a walk-in-walk-out basis.
ACE Farming founder Jeremy Bayard confirmed the purchase of the 400-hectare farm.
"We are pleased to add this farm to the portfolio ," he said.
"We continue to add to our portfolio as part of our ongoing and measured growth programme. We firmly believe in the Australian dairy industry, as do our investors."
ACE Farming now has 17 dairy farms across Victoria. It is the ­largest mainland dairy farmer, milking about 10,000 cows.
The company was founded in 2007 and took control of five dairy farms formerly owned by the then listed Valad Property Group, which is now controlled by private equity giant Blackstone.
Singapore-based QAF declined to comment on the transaction or why it sold the property, which included ­significant water entitlements, ­including 3500 megalitres of ground and channel water. It is the second sale of a dairy farm by an Asian-backed investor to ACE Farming this year.
Longyuan International purchased the 500-hectare Malmo Farm near Cobram in Victoria for about $6 million in 2008 but also sold out to ACE ­Farming this year.
While some Asian-backed groups have exited, there have been some ­purchases by Chinese companies of dairy farms in Victoria over the past 12 months. They include Xiang Pty's $7 million purchase of the 400-hectare organic dairy farm and Ningbo Dairy Group's, trading as Australian Youyou Dairy, $6.2 million purchase of a 240-hectare dairy farm in south Victoria.
More recently, a Tasmanian-based developer has announced he has put together 50 dairy farms to be sold to a Beijing company thought to be COFCO.