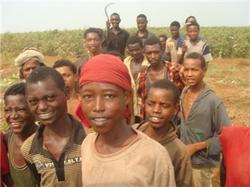 Ethiopian highlanders at a cotton farm in the Abwobo District of Gambella, a major target of foreign and domestic investors including Saudi Star.
Anywaa Survival Organisation | 14 October 2014
Land grabbing fuelling violent conflict in Gambela region
The ongoing tension and violent conflict in the Gambela region is a major concern for peace and stability in a troubled region. Gambela is home to five indigenous communities and hosts over 250,000 South Sudanese refugees fleeing political upheaval. At the heart of the current conflict is the government's development policy and the uncontrolled influx of migrants acquiring lands in the indigenous people's territories.
A country largely dependent on international food aid and financial assistance, Ethiopia pursued the 'opportunities' that land grabbing created in the aftermath of food price hikes and financial crises. It claims its development policy is a part of an agriculture-led development strategy to improve the country's economy, reduce unemployment and achieve advances in commercial farming knowledge. Millions of hectares were declared "unutilised" and made available for long term lease to domestic and foreign investors in remote Ethiopian peripheries. The rush for land, water and other essential natural resources has become a curse for indigenous and minority peoples who barely have legal protection and redress. Their territories have seen an increase in domestic and foreign investors producing cotton, mining, exploration and food items for export. Demographic change, competition over economic resources and political power as a result of government policy has caused violent clashes between indigenous peoples and migrants.
Whereas major indigenous territories in the country attract investment opportunities and have experienced similar violent conflict and insecurity, the current trend of natural resources conflicts is worrying and demands the intervention of the international community and organisations. On the Ethiopian holiday to celebrate Flag Day, Ojwok Aguri, an Anuak teacher from Perbongo was beaten to death by a highlander. Ojwok's killer was arrested and is in custody at Abwobo district. The murderer was identified as an ethnic Walayta, the same ethnic group as that of the current Prime Minister. The community, both Anuak and highlanders, called for capital punishment or for the trouble maker to be expelled to his home region. Walayta is one of the country's marginalized communities and has suffered historical injustice for generations.
In retaliation, angry Anuak youth at Abwobo district indiscriminately murdered eight highlanders and wounded 13 who are now in critical condition in the health post. Three of the victims were found dead this morning in investment farms owned by Ethiopian highlanders in the area. Abwobo district is a major target of foreign and domestic investors including Saudi Star. ASO's source in the region confirmed that EPDF escorted Anuak working at Saudi Star Company perhaps to protect their reputation and to defend against allegations of taking sides in a conflict that involves indigenous peoples and migrant communities from other parts of the country.
In a similar development, two Anuak boys were attacked last night on their way back home from a club in Gambela town. Theem Ochalla Cham died in the attack and his friend is fighting for his life in Gambela hospital. As the community prepares to bury Theem Ochalla Cham, unconfirmed reports have surfaced that angry youth attacked migrants around Bethel Mekane Yesus in Gambela town and one highlander is reported dead.
Last month the Majang community experienced dark days in their history. Women, children, and elderly community experienced cold days and nights without food and warm clothing. They were forced to abandon their homes, properties and livelihoods, saw their homes burnt to the ground and were hunted down by soldiers and federal police in the bushes where they were hiding.
The tragedy of violent conflict, ethnic tension, property destruction and loss of human lives are the result of government land grabbing policies and resettlement programmes that have deprived and dispossessed indigenous and minority peoples in remote areas such as Gambela where the Majang and Anywaa (Anuak) communities reside.
As the situation further escalates into chaos, Ethiopian soldiers in the Southern Tip of Bifthu Megenagna reported struggling to control furious Olam, Shekacho and Majang communities over last month's unprecedented killings of innocent Majang people. It is estimated that more than 70 Majang people died in the incident and many high level government officials were detained in the area and transferred to Addis Ababa prisons.
In the same month, the farmers of Okuna were forced to accept a land grabbing policy. The community elders opposed the giving away of 500 hectares of land to a US based Anuak group for fear of environmental destruction and to protect the thick forest and ecological balance of the area.
As tensions further escalate, independent bodies are echoing concerns about the Ethiopian government development policy and lack of protection and legal provisions for indigenous and minority peoples in the country. Among others, this month an article by Cultural Survival expressed the concerns of organisations defending indigenous peoples rights and human rights organisations. Their joint article called on ACHPR and the UN special Rapporteur on the Rights of Indigenous Peoples to investigate reports of human rights abuses and the indigenous peoples' displacement in Ethiopia. The report further calls on the Ethiopian government to reconsider their policy direction and search for alternative development paths that do not destroy the lives and livelihoods of the country's indigenous peoples.
A decade ago, the Ethiopian army and some highlanders took the law into their hands and murdered and displaced Anuak people in Gambela, their ancestral homeland, and burnt to the ground their properties. Educated Anuak in the town were indiscriminately murdered and buried in undisclosed mass graves.
The international community and organisations should respond to the escalating violent conflict in the remote Gambela region.
For further information, please contact Nyikaw Ochalla at [email protected].