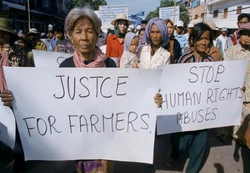 If the Cambodian government is held to account for these crimes, other governments and the companies involved will have to heed the warning and recognise that land grabbing is too big a price to pay for doing business.
Huffington Post | 7 October 2014
Unprecedented case filed at International Criminal Court proposes land grabbing in Cambodia as a crime against humanity
A case brought to the International Criminal Court this week could change the way we view the problem of "land grabbing" and trigger a major review of how the human rights violations that result are considered under international law.
Land grabbing is rampant globally. Each year, in countries such as Cambodia, millions of hectares of land are illegally taken from the people who live on it, often through violence and intimidation, to make way for mining, timber or agricultural plantations. The institutions who should provide justice to the victims of land grabbing are often the very groups driving the problem - national governments and their elites who frame land seizures as an unfortunate but inevitable step on the path to economic development, and quash any resistance.
The case lodged at The Hague on Tuesday alleges that land grabbing conducted in Cambodia 'on a truly massive scale' amounts to a crime against humanity, and should be punishable under international law. It goes on to explain how Cambodia's ruling elite has waged a campaign of land seizure characterised by murder, illegal imprisonment and persecution. It provides evidence that since 2000, 770,000 people have been adversely affected by land grabbing, many of them already forcibly displaced from their homes, with 20,000 new victims in the first three months of 2014 alone. In the capital Phnom Penh, ten per cent of the population has been directly affected.
The complaint has been filed on behalf of ten Cambodian victims, whose identity has been protected due to fears of retribution. Their lawyer, from Global Diligence LLP, alleges that the country's ruling elite - senior members of government, security forces, and business leaders - have waged a widespread and systematic attack on Cambodian civilians, motivated by 'self-enrichment and maintaining power at all costs'.
Cambodia is no stranger to high-profile land rights cases. Since 2000, the equivalent of more than 70% of Cambodia's arable land has been leased out - a significant proportion in a country where nearly eight out of ten people depend on land and natural resources for their livelihoods. Among the headline-hitting cases were land grabs for sugar plantations that supply Tate & Lyle, the Boeung Lake fiasco which resulted in the World Bank suspending funding to Cambodia in 2011, and acquisitions by rubber companies like Vietnamese giant Hoang Anh Gia Lai.
These disputes must no longer be seen in isolation. The complaint asks the International Criminal Court to consider them as symptoms of aggressive state policy, the impacts of which transcend the boundaries of human rights abuses and domestic crimes, and contain all of the legal elements that constitute crimes against humanity.
Land deals are often conducted in secret, so available figures are likely to be a gross underestimate. But we know that over the last decade as much as 49 million hectares - an area just smaller than the size of Spain - has changed hands or is under negotiation. Many governments and companies peddle the myth that large-scale agriculture is necessary to feed the world. But this argument ignores the fact that small-scale farmers still produce more than 80% of the food consumed in Asia and Sub-Saharan Africa. And they do this without routinely resorting to violence, persecution or evictions. Far from furthering development, taking land away from ordinary citizens undercuts it, representing one of the biggest threats to poverty alleviation.
If the International Criminal Court accepts the case, it paves the way for others to be pursued at the international level and could signal a ground-breaking shift in how land deals are done globally.
Surprisingly, large-scale land investments are still relatively ungoverned internationally. Since 2012, the US, Europe and Hong Kong have all introduced binding requirements for oil, gas and mining companies to publicly report on payments they make to governments. Meanwhile, Europe, the US and Australia have also introduced laws to prevent the import of illegal timber. No binding international regulations exist, however, to stop agribusiness companies from illegally acquiring, clearing or managing land.
If the Cambodian government is held to account for these crimes, other governments and the companies involved will have to heed the warning and recognise that land grabbing is too big a price to pay for doing business.