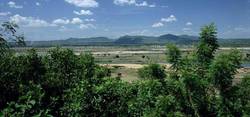 The Dangote Group had indicated interest in investing in irrigation around Kampe dam, adding that the land was suitable for sugar cane cultivation
NAN | 6 October 2014
Basin authority to cultivate 10,000 hectares of rice, sugar cane in Kwara, Kogi
The Lower Niger River Basin Development Authority (LNRBDA) is to irrigate 10,000 hectares in Kwara and Kogi for the cultivation of rice and sugar cane.
Mr Niyi Afolayan, LNRBDA Managing Director, stated this in an interview with the News Agency of Nigeria (NAN) on Monday in Ilorin.
He said that the N3.5 billion contract for the irrigation project had been awarded and would also cover 3,800 hectares at Tada/Shonga.
He said when completed, the Tada/Shonga irrigation project would produce enough rice to feed the nation.
Afolayan said that Kampe dam between Kabba and Lokoja would irrigate 4,200 hectares for rice and sugar cultivation.
He said that the Kampe dam is unique because of its location on a higher elevation on the River Niger, adding that its water flows through gravity to the field.
He said unlike most dams, the dam does not need electrical or mechanical force to drive irrigation water.
Afolayan said that the Dangote Group had indicated interest in investing in irrigation around Kampe dam, adding that the land was suitable for sugar cane cultivation.
He said that the authority had embarked on the irrigation of 500 hectares in the area, adding that corporate farmers had signified interest in cultivating land around Kampe dam.
Afolayan said Landmark University, Omu-Aran, had applied for 1,000 hectares and another 1,000 hectares for its graduate farmers who are interested in fish farming.
He said that the NNPC Cooperative Society had acquired 187 hectares for fish production, adding that Nigeria has no business importing fish in view of its huge potential in fish farming.
He said that the NNPC has a plan to invest one billion Naira in fish farming in the area, and had undertaken a study tour of Israel with the LNRBDA management.
Afolayan said the venture would stimulate a lot of job creation opportunities, generate foreign exchange, and reduction in poverty and crime in the area.
He said that LNRBDA has a big dam and five small ones, adding that plans were on the way to construct more dams.
He said that the Authority was facing financial challenges in the training of its personnel, and the development of its dams.
Afolayan said that many of the Authority's machinery and equipment were obsolete because they were over 30 years old. (NAN)