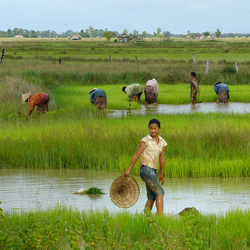 Vientiane Times | 10 September 2014
Chinese authorities eye agricultural investment in Laos
Authorities of Quanzhou city in China's Fujian province have expressed their interest in agricultural investment in growing rice and organic vegetables to supply the Chinese market.
The interest was recently shown by top authorities of Quanzhou during a short discussion with Lao Deputy Prime Minister Somsavat Lengsavad and his delegation in China last week.
Prior to the discussion, Mr Somsavat led the delegation to attend the 18th China International Fair for Investment & Trade in Xiamen, Fujian province.
The event attracted representatives from more than 100 countries across the world, providing a business platform and allowing senior foreign participants to share ideas on trade and investment promotion.
Speaking at the fair, Mr Somsavat gave his congratulations for the rapid growth of Fujian province, enabling its population to earn per capita incomes of US$10,000 per year.
In his speech he also referred to the new guidelines on economic development and the open opportunities for foreign cooperation over the past 20 years.
"Laos is located in the centre of the Asean sub-region, making it an attractive environment for foreign investment," he said.
Laos and China have been involved in several economic development projects in an effort to connect the two countries with other Asean members, especially the proposed Lao-China Rail project.
Chinese Vice Premier Wang Yang also attended the investment and trade along with other foreign leaders.
During his time in China, Mr Somsavat and his delegation visited several economic development offices in Xiamen as well as making visits to various privately owned enterprises in Quanzhou city.
Trade between Laos and China reached over US$2.03 billion last year, an increase of almost 30 percent compared to the year before, according to a senior official.
Chinese investment in Laos is worth over US$5 billion (over 40 trillion kip), which makes it one of the largest investors in the country, a recent report by a senior official stated.