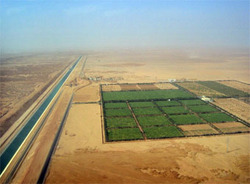 Egyptian PM Ibrahim Mahlab met with UAE Minister of State Ahmed Al Jaber and officials of Al Dahra Agriculture on September 30, 2014 to assure them that the Egyptian government is removing obstacles to the company's projects in Toshka.
Amwal Alghad | 1 October 2014
UAE-Al Dahra to Egypt's Mahlab 'We Pumped EGP750mn in Toshka Project'
By Ahmed Fayez
Egyptian Prime Minister Ibrahim Mahlab has met on Tuesday Dr. Sultan Ahmed Al Jaber Minister of state in the United Arab Emirates and the officials of UAE-based Al Dahra Agriculture which has several various investment projects across Egypt.
Mahlab asserted that Egypt is responsible for solving all the dilemmas which facing investors and improving the country's investment climate in general.
Mahlab has contacted some ministers to remove the obstacles which faced by UAE-based Al Dahra in its different projects.
Al Dahra's Vice Chairman & Managing Director H. E. Khadim Al Darei and CEO of Al Dahra-Egypt Sulaiman Al Nuaimi have invited Mahlab to visit Dahra's agriculture projects in Toshka and Sharq Al-Owainat especially it has 100.000 feddan in Toshka and it was pumped investments totaled EGP750 million for Toshka's infrastructure.