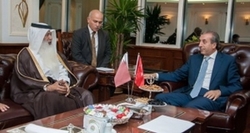 President Recep Tayyip Erdoğan's talks with Qatari Emir Tamim bin Hamad al-Thani in Ankara in September 2014. Immediately after the visit, the CEO of Qatar's state-owned Hassad Food Company, Nasser Bin Mohammed al-Hajri, was sent to Ankara under firm instructions by Qatar's emir to make an agricultural investment of $500 million in Turkey.
Daily Sabah | 24 September 2014
Qatar increases its investments in Turkey's agribusiness sector
ISTANBUL — Following President Recep Tayyip Erdoğan's talks with Qatari Emir Tamim bin Hamad al-Thani last week, the CEO of Qatar's state-owned Hassad Food Company Nasser Bin Mohammed al-Hajri, who was firmly instructed by Qatar's emir to make an agricultural investment of $500 million (TL 1.12 billion) in Turkey arrived on Tuesday. Qatar's Hassad Food Company invests abroad in order to satisfy the country's basic agricultural requirements as the small peninsula lacks sufficient arable land for agriculture, according to al-Hajri. It is reported that al-Hajri and Qatar's Ambassador to Ankara Salem Mubarak al-Shafi had a meeting with Turkey's Agriculture Minister Mehdi Eker for about 2.5 hours the previous day. The parties settled on making joint investments in poultry, mutton and dairy sectors on Turkish General Directorate of Agricultural Enterprises (TİGEM) lands.
The new projects will be done in cooperation with private companies that are engaged in agricultural activity on these lands. According to statements by al-Hajri, the meeting was marked by special anecdotes. Al-Hajri said that he was strictly ordered by Qatar's emir not to return to the country without striking a food deal with Turkey worth $500 million. Thus, the meeting which was scheduled for half an hour took about 2.5 hours.
Al-Hajri also noted that a Qatari delegation had talks with private sector representatives about poultry, mutton and dairy products in Istanbul. "We want to get into partnership with the private sector and to invest in agricultural public domains. Products to be derived from these investments will be exported to Qatar.
Eker said that the private sector already utilizes the majority of its 24 million hectares of land that is allocated for agricultural production, thus, Qatari investments will improve further with private sector partnerships. Eker added, "Furthermore, TİGEM's lands have been formally transferred to the Turkish private sector for up to 30 years. There are successful projects and if Qatar establishes cooperation with these companies it will develop investment opportunities."
During a press release following the talks with Qatari delegations and Qatari Emir Tamim bin Hamad al-Thani on Sept. 15, Turkish President Recep Tayyip Erdoğan remarked that officials would intensify talks in the upcoming period in order to actualize decisions regarding the economy. Erdoğan noted, "I see that Qatar will improve its sensitivity concerning real investments in Turkey. I believe this will be the ultimate progressive step in Turkish-Qatari economic relations."
Holding a meeting with Turkey's Minister of Economy Nihat Zeybekçi in April, 2014, Qatari investors showed their enthusiasm upon entering the Turkish market, a source close to the ministry told Daily Sabah. Authorities from the Qatari Directorate of Investment who met the Vice Director of Turkey's Privatization Administration Ahmet Aksu on April 23 expressed their interest in investing in power generation plants, port privatizations and real estate. The Turkish board also offered some information to Qatari investors about the privatization portfolio. According to the Ministry of Economy, Turkey and Qatar's steps toward greater economic cooperation, in addition to their political cooperation on numerous other issues, remains of the upmost importance as they target a $1.5 billion (TL 3.22 billion) increase in mutual trade by 2015, which currently stands at about $800 million.
In February, 2014, Turkish and Qatari delegations led by Finance Minister Mehment Şimşek and Qatar's Economy and Trade Minister Sheikh Hamad Bin Jassim Bin Mohammad al-Thani inaugurated talks for a possible free trade agreement between the two countries.