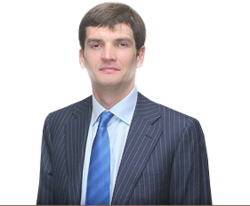 Eduard Samotka, CEO of the Ukrainion mining and fertilisers conglomerate, the DARA Group.
Xinhua | 23 September 2014
Ukrainian, Chinese investors launch joint agriculture project
KIEV, Sept. 23 (Xinhua) -- Ukraine's DARA Group has signed an agreement with a Chinese corporation to jointly invest in the Ukrainian agricultural sector, local media reported Tuesday.
The memorandum of understanding was inked on Monday between the Ukrainian multi-sectorial group and China's Huangfan District Agricultural Corporation based in the country's central Henan Province.
Sergey Yevtushenko, head of Ukrainian State Agency for Investment and National Projects, attended the ceremony.
Under the agreement, the two companies will jointly invest 58 million U.S. dollars through the next five years in the development of two agriculture enterprises in Ukraine's northern Chernigov region.
They plan to invest 25 million U.S. dollars in the development of cattle breeding and 17.5 million in plant growing. The remaining funds will be earmarked to establish a pig-breeding complex.
The investment is expected to boost the region's employment, creating 480 permanent and around 1,000 seasonal jobs.
--
DARA Group | 18 September 2014
Foreign investments have been attracted for development of "Chinese – Ukrainian Agricultural Company "FANDA"
DARA Group and Chinese Agricultural Corporation HuanFan Qu have approved five year development plan on growth of mutual agricultural enterprise "Chinese – Ukrainian Agricultural Company "FANDA", that foresees 58 million USD of foreign investments to be attracted.
The new plan envisages expansion of product facilities and land under cultivation, modernization and implementation of new agricultural technologies that will increase productivity and product quality by using more effective technologies fitting agricultural standards.
--
Eurasian Development Bank | 23 September 2014
Dara Group to launch agro investment with Chinese partners
Proving that even in times of crisis and war, Ukrainian agricultural potential will remain alluring to global food investors and local businessmen, Ukraine's Dara Group detailed a $58m investment project for crop planting and pig breeding near Kyiv in Chernigiv region, to be implemented through 2019.
Dara Group, owned by Zaporozhe region metals and mining magnate Eduard Samotkal, will be partnered by China's HuanFan District Industry Group Co. in the project. Chinese business has long been rumoured to be looking for investment opportunities in Ukraine, but this looks to be one of the first projects to move ahead.
According to a presentation director of the joint venture company Fanda, Kyryl Sakhno September 22, the investment project will encompass grain crops, with investment at $17.5m per year, a pig farm complex with 50,000 pigs costing $12.5m per year, four farms with 5,000 pigs each, costing $25m and a greenhouse complex costing$2.5m, as quoted by Interfax.