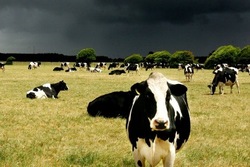 "We lost money so we sold the farm ... we don't want to invest in dairy farms any more, it's too hard," says Longyuan International manager Rosemary Hu.
Financial Review | 22 September 2014
China sour on dairy management
by MATTHEW CRANSTON
DESPITE all the hype around Chinese investment in the Australian dairy sector, one Chinese investor who bought a dairy farm five years ago has lost money and will not buy again.
Longyuan International purchased the 500-hectare Malmo Farm near Cobram in Victoria for about $6 million in 2008 but has just sold out to ACE Farming Company, formerly owned by Valad Property Group.
"We lost money so we sold the farm," Longyuan International manager Rosemary Hu told The Australian Financial Review. "We didn't understand the management; it was hard to find good management."
Her experience represents one of the greatest challenges facing new investors in Australian agriculture: suitable management. "We don't want to invest in dairy farms any more, it's too hard," Ms Hu said. "We might look at other agriculture."
There have already been a number of quiet Chinese purchases of dairy farms in Victoria over the last 12 months.They include Xiang Pty Ltd's $7 million purchase of the 400-hectare certified organic dairy farm The Bluff at Tarwin Lower.
The Chinese interest in dairy farms comes at a time of profound demand for dairy products in China. NSW dairy co-operative Norco, headed by Brett Kelly, has made huge inroads to the market. Norco will more than double sales of fresh milk to China, where it is now retailing it for a hefty $9 a litre.
Despite Ms Hu's warning about the troubles associated with trying to manage dairy farms in Australia, other Chinese companies are taking the chance.
One of China's biggest milk companies, Ningbo Dairy Group, has already started to buy small dairy farms in Victoria and is planning to invest further.
Ningbo, trading as Australian Youyou Dairy, made a $6.2 million purchase of a 240-hectare dairy farm at Kernot in Victoria's south. That sale set a price of $21,000 a hectare and has surprised many farmers. Ningbo Dairy vice-president Harry Wang told media last week his company wanted to own enough farms to produce and fly 100,000 litres of fresh milk a day direct from Australia to China.
Corporate activity in the dairy sector has been hot this year, with Canada's Saputo taking over Warrnambool Cheese & Butter, while Hong Kong businessman William Hui snapped up United Dairy Power for $70 million in March.
The activity has also lead to the creation of the new Australian Dairy Farms Group which raised about $9.5 million last week through Bell Potter to acquire two dairy farms near Warrnambool, with plans to list on the Australian Securities Exchange in early October.