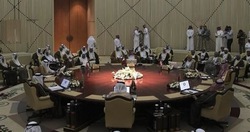 Photo: Reuters/Faisal Al Nasser
Arab News | 17 September 2014
FGCCC calls for expanded role of sovereign funds in agro investments
Secretary General of the Federation of GCC Chambers (FGCCC) Abdulrahim Hasan Naqi has stressed the need to expand the role of sovereign funds to have investments in agro, food, animal, and mining areas.
Speaking at an investment forum on food security and mining resources in Khartoum, Sudan, Naqi called for boosting global halal trade availing the number of Muslims whose population is exceeding 1.7 billion, especially when the Islamic world is importing halal products from outside the Organization of Islamic Cooperation (OIC) countries.
He said the participation of FGCCC in the forum rests on the FGCCC's strategy approved in 2011, which stresses the need for the GCC private sector firms to join events on food security on the one hand and activation of the FGCCC's role in economic development on the other.
He also touched on the GCC efforts in ensuring food security at the level of each country and initiatives of the private sector firms and their investments within or outside the GCC countries.
In this context, he called for giving more chances to the private sector companies and allow them to own and run strategic projects while the role of governments be confined in regulatory matters and guidance.
He stressed that youths in the Arab world be encouraged to initiate projects, provided with funds at concessional terms and feasibility studies.
The FGCCC chief called for the establishment of specialized center on food and agriculture that will hopefully help governments and decision-makers to take proper decisions on the provision of food for their citizens.