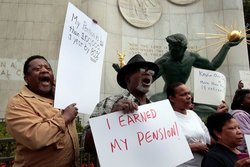 Retired municipal workers demonstrating in August 2013 against pension reductions in Detroit, which filed for bankruptcy in July. (Photo Rebecca Cook/Reuters)
Reuters | 8 Spetember 2014
Michigan pension fund to invest more in Australian nuts, livestock
BY BARANI KRISHNAN
(Reuters) - Thousands of miles from pricey U.S. farmland, a Michigan pension fund is expanding its investments in Australia's almond, cattle and sheep farms, betting on good returns from the comparatively cheaper assets and surging prices for the commodities.
The $9 billion Michigan Municipal Employees' Retirement System (MERS) is widening its $1 billion real assets allocation by 30 percent over the next three years, inspired by a rally in almond prices after a demand spike and short supplies as well as rebounding prices for drought-ravaged Australian livestock.
Australia is the world's second largest producer of lamb and third largest of beef. It is also the largest almond grower in the Southern Hemisphere.
But the country's nut and livestock farms are a rare fit for U.S. pension funds, which typically hold stakes in stakes in North American energy projects, timberland and real estate as part of their real asset mix. Public employees' retirement funds have also been less drawn to commodities and more to equities as U.S. stock prices have soared to record highs.
MERS is a fraction of the size of industry leaders Calpers and Calstrs, the California pension funds with assets of $200 billion to $300 billion. But if its Australian forays are successful, it could influence bigger pensions and institutional investors looking to get more for their money.
"We're not investing in U.S. farmland because we feel the valuations are much too high," Jeb Burns, chief investment officer at the Lansing, Michigan-based pension, said in an interview. "We're turning to where there are still good valuations and opportunities in real assets and commodities."
Burns expects MERS' real assets allocation, which was created in January and includes timber, real estate and private infrastructure, to grow about $100 million a year through 2017, investing in Australia and other non-U.S. locations. There is also an "enhanced commodities" portfolio within the allocation, with about $300 million in derivatives benchmarked to the DJ-UBS Commodity Index.
MERS put up $60 million in February for a 45 percent stake in an 18,000 hectare (44,460 acre) almond orchard in Victoria, Australia, run by Olam Australia. The farm accounts for 50 percent of Australia's and 4 percent of the world's almond supply. Switzerland's Adveq Real Assets and Denmark's Danica Pension are MERS' partners in the venture.
A similar stake in an orchard of that size in California, the world's top almond grower, might have cost MERS $500 million, an industry official estimates. Almonds have almost doubled in price in the past five years, becoming the nut of choice for health-conscious consumers.
In the livestock venture, MERS has committed $180 million to Queensland's Australian Pastoral Fund Management, investing $60 million to date.
The MERS real assets allocation returned 8 percent in the year to June and Burns said the fund has targeted up to 11 percent returns over the next three years if the Australian ventures yielded as planned.
"It's early days, but the strategy's been executed exactly as we hoped," he added. (Reporting by Barani Krishnan, editing by G Crosse)