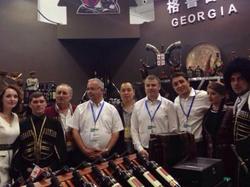 Government of Georgia | 3 September 2014
25 million dollars will be invested in rural-agricultural sector of west side of Georgia
Georgian Government Delegation headed by Otar Danelia, Minister of Agriculture, pays an official visit to China. Georgian Delegation composed of Levan Shonia, Governor of Samegrelo-Zemo Svaneti Region, Gocha Dgebuadze- Senaki Governor and other representatives of the region are actively holding meetings with Chinese Government Officials and private sector representatives .
The two sides highlighted a wide range of agricultural issues with the Head of the Regional Development Bank of China at the meeting. They have underlined the importance of leasing, agricultural lending and advisory services for the development of an effective system, as well as taking opportunities to attract Chinese investment in these areas respectively.
The Memorandum of Cooperation, that provides from 20 to 25 million US Dollar investment from Chinese side to agriculture sector of Samegrelo-Zemo Svaneti region, was signed in the city Urumqi, in the frame of the Georgian Delegation working visit to China. To make investments in the following areas such as: production of many types of agricultural crops , fisheries, livestock, tea, cold storage, infrastructure development and agro-tourism are defined by the Memorandum of Cooperation.