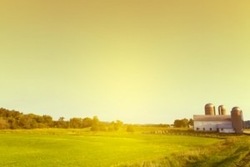 Photo: Shutterstock
PE Hub | 4 September 2014
Agri-business fund seeks $250 mln for neglected market; Washington, Maine pensions on board
BY CHRIS WITKOWSKY
Taking aim at one of the less-traveled areas of private equity, Agriculture Capital Management is targeting $250 million for a debut fund called ACM Permanent Crops.
ACM plans to invest in permanent cropland, along with related midstream businesses involved in the growing, packaging and marketing of produce on the U.S. West Coast.
The board of Maine Public Employees Retirement System approved a commitment of up to $50 million to the fund subject to due diligence and negotiations, according to the system's chief investment officer Andrew Sawyer. The Washington State Investment Board approved a commitment of up to $50 million in February to the fund. It is not clear if that commitment officially closed.
As of early August, the fund had collected $124 million, according to a Maine PERS investment memo.
Agribusiness may be one of the last sectors in the world where there aren't enough private equity funds.
"As emerging markets emerge and become wealthier," demands around food production are increasing, said The Carlyle Group co-founder David Rubenstein during the firm's second-quarter earnings call in July. "Agri-business is one of the greatest areas for private equity."
Rubenstein was talking about the prospects for NGP Energy Capital Management, which closed on $402 million for an agriculture-focused fund called NGP Agribusiness Follow-on Fund in April. (Carlyle has an ownership stake in NGP Energy Capital.)
All told an estimated 33 private equity-related agriculture funds are in the market chasing a relatively modest $13.6 billion, according to data provider Preqin. Eight funds since January have raised $1.1 billion, Preqin said. That compares to nine funds that raised $1.1 billion in all of 2013, nine funds that raised $3 billion in 2012 and 10 funds that raised $1.6 billion in 2011, Preqin said.
ACM is managed by Tom Avinelis, chief executive officer, who has also owned and operated two related companies. They are AgriCare, Inc., a farm operations company, and Homegrown Organic Farms, an organic produce marketing business. ACM is backed by Equilibrium Capital, a platform of real asset managers.
The firm plans to use resources from both AgriCare and Homegrown Organic Farms in its investments, according to the Maine PERS investment memo.
ACM will kick in a 1 percent GP commitment, which would be $2.5 million if the fund hits its $250 million cap, the investment memo said. The management fee will be 1.75 percent of committed capital during the investment period, and 1.75 percent of net invested capital after. The carried interest level is set at 15 percent, the investment memo said.
The firm will focus on organic crops like blueberries, citrus and other permanent crops like grapes and nut trees, with a focus on organic crops, according to a separate investment memo from Maine PERS investment advisor Cliffwater.