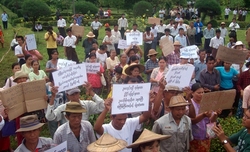 Eleven | 31 August 2014
Big farmers protest over govt failure to resolve land grab problems
MAUBIN- Over 1,000 farmers staged a protest on Saturday over the government's failure to prevent or adequately resolve land grabs.
Farmers from various townships in Ayeyawady Region including Maubin, Kyaiklat, Pyapon, Dedaye, Labutta, Mawkyun, Bokalay, Zalun, and Hinthada townships participated in the protest to express their dissatisfaction over the confiscation of farmland.
A mass of 1,200 farmers gathered at the junction of Maubin Bypass Road and Yayle Road and marched to the corner of Min Road and 3rd Street (in front of the office of a National League for Democracy Lower House MP for Maubin). While marching, they shouted slogans calling for the authorities to protect the interests of farmers and accused the farmland management committee of bias.
The protest aimed to highlight official mismanagement of confiscated farmland. Farmers from various townships claimed they have not received land even though they were listed for the allocation of blocks in unused areas. When companies or ministries rent confiscated areas, the land is usually not rented to the original farmers, but other farmers.
The farmers also protested over the inclusion of township administrators and land records department officials, who were involved in the original land confiscation, on the Farmland Management Committee, which handles the allocation of unused land.
Kyi Lwin, an advocate for farmers, said: "Farm land was not confiscated in accordance with the law, but officials kept repeating that things were done 'in accordance with the law' when land was seized. Actually, the farmers are not educated and they don't know the laws. But we have seen the Farmland Management Committee using this information to delay the return of [confiscated] farmland."
Farmer advocates Zaw Yan and Aung Myint also spoke and criticised the President and the Parliament for the mismanagement on farmland. They said the country would fail to develop if the government was not able to resolve farmland issues.
The protesting farmers ended their protest after they arrived in front of the NLD MP's office. Maubin Lower House MP Sein Win also criticised the government over farmland issues.
He said: "The people who confiscated the land are on the Farmland Management Committee, so it's like the culprit is also serving as the judge – and he can rule on his case with ease. Over 50,000 farm blocks have been confiscated in Maubin. The military, ministries, and companies have done the confiscation. The companies don't want to return the lands so they are going around in circles. In areas where compensation is being paid, the committee does not pay the market price. I plan to submit this [information] to the Parliament."
This protest was the first with a large number of farmers and it was staged with permission from the authorities. Last January, around 500 farmers staged a similar protest in Yangon.