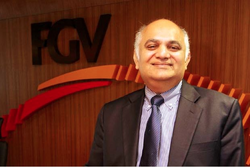 Mohd Emir (pic) told StarBiz that the FGV plantations in Indonesia had not started producing any fresh fruit bunches yet.
StarBiz | 27 August 2014
Indonesia beckons for Felda Global Ventures
KUALA LUMPUR: The proposed laws to restrict foreign ownership of plantations in Indonesia is not a deterrent to Felda Global Ventures Holdings Bhd's (FGV) plans to expand its operations in that country.
FGV group president and chief executive Mohd Emir Mavani Abdullah said the group would continue to expand its plantations in Indonesia through acquisitions and additional planting in its existing plantations this year.
In Indonesia, FGV has invested in Trurich Resources Sdn Bhd, a joint venture with Lembaga Tabung Haji, that owns 42,000ha of oil palm plantations in East and Central Kalimantan.
FGV also owns PT Citra Niaga Perkasa, a company that has 14,385ha of land in West Kalimantan currently being developed into oil palm plantations.
The total land bank in Indonesia under FGV's subsidiaries is about 35,422ha.
Mohd Emir told StarBiz that the FGV plantations in Indonesia had not started producing any fresh fruit bunches yet.
"We have just started planting on those parcels of land that we had been acquiring since 2012, and thus, the trees are yet to mature and there is zero turnover from our oil palm plantations in Indonesia," he explained.
Where oil palm was concerned, FGV's target would be Indonesia, said Mohd Emir, adding that the group would also need to spread its risks to other locations such as Papua New Guinea, Africa and even Malaysia "if there is still plantation land for sale".
According to analysts, FGV's exposure to the oil palm plantation sector in Indonesia is still very low at about 5%.
Hence, the group could still expand in Indonesia via green or brownfield acquisitions despite new regulations last year which stipulated that plantation companies or plantation groups of companies could own a maximum of 100,000ha in that country.
Analysts added that this regulation would affect other Malaysian companies with high exposure to Indonesia's plantation sector such as Sime Darby Bhd and Kuala Lumpur Kepong Bhd, which might need to consider looking elsewhere for new land bank for their plantation expansion unlike FGV.
But the latest concern for Malaysian plantation companies with operations in Indonesia is a proposed Bill on the foreign ownership in plantations in Indonesia to be capped at 30% compared with 95% currently.
Meanwhile, Bernama reported Mohd Emir as forecasting the outlook for crude palm oil (CPO) prices to remain bearish for the rest of the year.
Mohd Emir said that the bearish outlook affected not only FGV but most oil palm plantation companies. "We're very concerned and so is the Government. We are taking some steps to make sure that the impact of the bearish prices can be mitigated along the way," he told reporters after the launch of FGV's code of business practice by Deputy Minister in the Prime Minister's Department Datuk Razali Ibrahim here yesterday.
Mohd Emir has forecast CPO prices to average between RM2,400 and RM2,500 per tonne this year.
On the company's second-quarter results, he explained that although revenue almost doubled, profit after tax was reduced because of its higher land lease agreement.
FGV reported a higher revenue of RM4.08bil for the second quarter ended June 30 from the RM2.9bil a year ago. Pre-tax profit, however, fell to RM322.361mil against RM530.448mil previously.
Against this backdrop, Mohd Emir was optimistic of a profitable year, given the fact that internal steps would be taken to improve productivity and reduce operating cost.