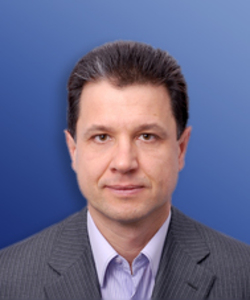 Steenord, an investment company based in the

British Virgin Islands

that is controlled by Russian sports retail tycoon Nikolay Fartushnyak (above), acquired 47 percent of Stockholm-listed Agrokultura, which owns farms in the Ukraine and Russia.
Agrimoney | 27 August 2014
Agrokultura ushers in new era with record yields
Agrokultura kicked off its era with sports retail tycoon Nikolay Fartushnyak as its top investor by unveiling its best-ever harvest results, which the farm operator heralded as a major step towards entering profitability.
The farm operator in Russia and Ukraine said that it had risen to the "top end of scale farmers in the region" after crediting "improved processes", besides "excellent weather conditions", for company-best performances in winter crops.
For Ukraine, besides confirming a 49% rise to 5.5 tonnes per hectare in the winter barley yield, Agrokultura pegged its rapeseed result at 3.4 tonnes per hectare, a gain of 17%, with the winter wheat yield soaring 50% to 5.7 tonnes per hectare.
In Russia, the group achieved an 11% increase to 4.1 tonnes per hectare in the winter wheat yield, and said early results of the spring grains harvest were "materially in excess" of last year's.
'Record levels'
"We are pleased to be able to confirm the winter planted yields have come in at record levels," said Stephen Pickup, the Agrokultura managing director.
"These results are a major contributor to the turnaround which is ongoing in the business and are particularly satisfying given the major cost reductions which have been put through the business while delivering these yields."
In Ukraine, yields had reached levels which are "at the level required to make the Ukraine business profitable", Agrokultura said.
And with some test plots showing "materially higher" yields still, "the company is taking forward lessons to try and push average yields further in future years".
National picture
The harvest results are the latest in a series of upbeat harvest reports from Ukraine, both by companies and at the national level, with the government on Tuesday reporting a wheat harvest of 24.4m tonnes bunker weight from 99% of the sown area.
Bunker weight, which includes chaff and impurities, is typically some 5-7% bigger than the clean weight used as an international comparator.
Ukraine last year achieved a 22.3m-tonne harvest and has been expected by the US Department of Agriculture, whose data set world benchmarks, to produce a 22.0m-tonne crop this year – a figure which now looks an underestimate.
However, there are some question marks over the quality of the harvest, with the proportion of milling wheat expected at 60-65%, down from the typical 75%.
Sports entrepreneur
Agrokultura's briefing also comes two weeks after the group named as Nikolay Fartushnyak, a Ukrainian-born sports entrepreneur in Russia, where he runs the Sportsmaster empire, as the investor snapping up Agrokultura shares, amassing a 47% stake.
Steenord, the investment group through which Mr Fartushnyak has bought its stake, "is supportive of" Agrokultura's current strategy, the group said at the time.
It added that Steenord's interest "brings stability and industrial competence giving [Agrokultura ] an improved ability to execute the chosen strategy from an operations, financing and asset divestiture perspective."
Agrokultura, which was founded in 2006, has, on records going back to 2008, yet to report a profit, running up an aggregate loss of more than SEK950m, the equivalent of about $135m at current exchange rates.
Its Stockholm-listed shares - which peaked at SEK81.81 on their second day of trading, in October 2009 – stood at SEK4.45 in lunchtime deals on Wednesday, down 0.5% on the day.