RFA | 24 August 2014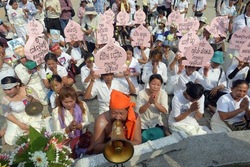 Cambodian land rights activists pray during a protest in Phnom Penh, March 3, 2014.(Photo: AFP)
Hun Sen in new push to tackle land crisis but NGOs call for total review
by Den Ayuthea
Cambodian Prime Minister Hun Sen has set up an interministerial panel to tackle the worsening problem of land grabs in the country, but nongovernmental organizations say his own policies are fueling the crisis and need urgent revamp.
Hun Sen announced the setting up of the new committee last week, saying it would report directly to him and review economic land concessions across the country in a bid to identify companies not adhering to their contracts with the government.
Companies that obtained the concessions have been accused of mass evictions tied to illegal logging.
Hun Sen said that unused land that was granted as economic land concessions should be given back to the people, slamming provincial officials for dragging their feet on resolving land disputes.
Hun Sen's new push to stem the land grab crisis came as landless villagers attempted last week to march on his residence to highlight their plight.
The prime minister has blamed what he called irresponsible government officials for the escalating land disputes, but local rights group Adhoc said he should not evade responsibility for the problem that has been gripping his administration for decades.
Adhoc's head of human rights and legal aid Ny Chakrya said the number of land disputes taken to court this year has already surpassed those in all of 2013, blaming it on a program personally initiated by Hun Sen in 2012 to issue land titles to villagers, some of whom complain they have been duped by local authorities.
The group of villagers from Snuol district in northeast Kratie province who tried to march on Hun Sen's residence last week complained that local authorities refused to provide them with land titles even though the area they had been living in had been inspected and approved for such entitlement.
'Foolish kid'
When Ny Chakrya took Hun Sen to task for pleading ignorance of the land dispute issue in Snuol district, the prime minister publicly rebuked the Adhoc official, calling him a "foolish kid" and "very arrogant."
"That foolish kid thinks that he has VOA and RFA [but] I have TV," Hun Sen said, referring to U.S.-based broadcasters Radio Free Asia and Voice of America, and his government monopoly of televised media. "I have been trying to resolve land conflicts," he said.
Adhoc acknowledged that a 2012 moratorium Hun Sen imposed on granting economic land concessions has resulted in a drop in the amount of new land in dispute this year compared to 2013, but said that little has been done to address disputes arising from previously granted concessions.
The Cambodian Center for Human Rights (CCHR) said that any solutions to the widespread and complex nature of land disputes in the country would require the involvement of the government at the highest level, and a national plan and policies supported by Hun Sen's cabinet.
'Inclusive' approach
It asked Hun Sen to hold an "open and inclusive" discussion with civil society if he was "genuine" in his desire to address the land crisis.
"I believe that your government and relevant ministries should organize meaningful, inclusive, and public consultation with affected communities and civil society to design an adapted and effective policy to address the land situation in Cambodia," CCHR Executive Director Chak Sopheap said in a letter to the prime minister last week.
She called for a moratorium on land evictions and a transparent and effective land registration program, asking the government to make all information on land concessions, classification of State land, and protected areas available and publicly accessible.
"Your government should also ensure that all relocation sites have adequate services; that private actors responsible for land grabbing and illegal evictions are held accountable; and that all arrest, political and judicial harassment and violence against peaceful protesters ends and that those currently detained be immediately released," she said.
Opposition pressure
Opposition Cambodia National Rescue Party (CNRP) Vice President Kem Sokha has also written a letter to Hun Sen requesting a review of all cases of villagers imprisoned over land disputes.
Since 2008, more than 70 percent of the country's arable land has been leased out to private investors, according to London-based environmental advocacy group Global Witness in a recent report.
It said that the rapid sell-off has affected more than half a million Cambodians and seen some 2,000 families affected by often violent land grabs in the first three months of 2014 alone.
The country's land issues date from the 1975-79 Khmer Rouge regime, which forced large-scale evacuations and relocations, followed by a period of mass confusion over land rights and the formation of squatter communities when the refugees returned in the 1990s after a decade of civil war.
Reported by Den Ayuthea for RFA's Khmer Service. Translated by Yanny Hin. Written in English by Parameswaran Ponnudurai.