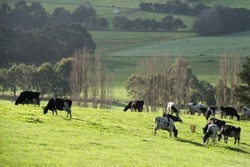 Stock & Land | 25 August 2014
Scandinavian fund's big dairy investment
by JARED LYNCH
A Scandanavian pension fund has poured $20 million into Australian dairy farms to help lift stagnant local milk production.
Australia's biggest milk processor, Murray Goulburn, sourced the cash that has bought nine dairy farms, which have been leased to the farmer-owned co-operative.
Gary Helou, Murray Goulburn's managing director, said the investment had added about 30 million litres to the co-operative's milk supply, which is about 39 per cent of the national pool.
He hopes the foreign cash will trigger more deals in Australian agriculture, which domestic funds have traditionally shied away from because of the risks associated with primary production.
Mr Helou said Asia's fast-growing middle class, which is expected to grow to 3.2 billion by 2030, had made agriculture more appealing. And international pension funds, particularly in the US and Europe, have been more inclined to invest in farm assets.
"The superannuation funds are interested in the sector," Mr Helou said. "They like the concept of Australian and New Zealand milk going into Asia."
Fairfax Media reported last year that European superannuation funds were looking for a 5 per cent return from the Murray Goulburn program as well as capital growth. The farms are sublet through the co-operative to "accomplished farmers".
Marcus Elgin, executive chairman at Australian Agribusiness Group, sourced the overseas cash on behalf of Murray Goulburn, but he declined to comment of the programs details, citing commercial in confidence.
"I won't take you through the details of the transaction because we will like to do more of these and we think it's much more to our advantage not to excite the market too much about what we are doing," Mr Elgin said.
"So I'm not really interested in blowing the horn on that side of that equation."
Murray Goulburn's executive general manager of shareholder relations, Robert Poole, said despite the Scandinavian interest, attracting capital from superannuation funds for agriculture projects continued to be difficult.
"I think agriculture will successfully attract more and more non-farm capital but companies like Murray Goulburn are going to have to work hard to facilitate that," Mr Poole said.
"We didn't necessarily want to go into this avenue but we could see that if we were going to grow milk supply and attract capital we needed to be a party … and as a co-op we were well placed to link equity to farmers."
Milk processors are employing a range of strategies to boost milk production, which has fallen about 20 per cent in the past decade from about 11.2 billion to 9 billion litres a year.
Lino Saputo jnr, the chief executive of Canadian dairy giant Saputo, which owns 88 per cent of Warrnambool Cheese and Butter, has called on farmers to increase their herds to ramp up production, saying the WCB will process all their milk.
"'What we are trying to do in Australia is appeal to the dairy farmers and say, 'Look, we can be a good home for your milk. If you choose to increase your herd size and you're producing more milk, we will put on the infrastructure to process that milk'," Mr Saputo said.
But he did not mention any financial incentives such as farm gate price increases or investment rebates to encourage farmers to lift production.
Fonterra, the world's biggest dairy exporter, has said it will help farmers develop a business plan and co-fund the expansion of their business to boost production.
The New Zealand co-operative said it would help fund the buying or leasing of neighbouring properties, more cows to increase herds or update farm equipment. In return a farmer has to enter a three to five-year supply with contract, depending on the investment, with Fonterra.