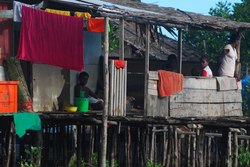 PT Pusaka Agro Lestari, a subsidiary of Singapore-based Noble Group, is proceeding with a controversial oil palm plantation that is
said to threaten
the survival of the Kamoro people along the coast of Mimika Regency. (Photo:
Husyen Abdillah
)
Antara | 18 August 2014
PT PAL opens 3,500 hectares of new oil palm plantation in Papua
Timika (Antara) - PT Pusaka Agro Lestari has cleared 3,500 hectares of forests for oil palm plantations in the district of Timika, Mimika, Papua.
Head of the Mimika forestry office Syahrial told Antara news agency here on Monday PT PAL had continued to expand its oil palm plantations.
This year, the company planned to open 4,000 hectares of new oil palm plantations in Papua, Syahrial said, adding the 3,500 hectares are part of the target.
"We have no information yet about its plan for 2015," he said.
He said the operation of PT PAL had been distubed lately with the recent communal conflict in the area of Djayanti-Mayon, Kuala Kencana.
"The workers could not return home to Timika for fear of falling victims in the conflicts," he said, adding, now, however, the condition has been normal.
The company has fully paid its obligation in forestry resource royalty provision and reforestation fund to the government for the trees it felled, he said.
"In July it paid Rp700 million in forest resource royalty provision and reforestation fund," he added.
In 2013, it fully paid more than Rp3 billion including Rp1.151 billion in forest resource royalty provision and Rp1.976y billion in reforestation fund. (*)