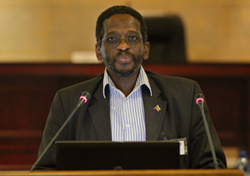 The pan-African parliamentarian campaign against what is referred to as land grab by investors from developed countries is the brainchild of Mr Sisa Njikelana, former member of the South African Parliament
Parliament of South Africa | 13 August 2014

MOVE TO PROMOTE RESPONSIBLE AGRICULTURAL INVESTMENTS IN AFRICA
By Abel Mputing

The current investments by foreign agricultural investors in vast tracks of fertile land is informed by global food politics than by the investors' will to develop Africa's agricultural sector as a competitive force in the global economy. And if African countries do not guard against this trend, it will constitute the second scramble for Africa.
"Today, many are calling the recent land rush the "Second Scramble for Africa" driven by increasing food prices and speculative investment by corporations, investment funds, and sovereignty wealth funds which are gobbling up the fertile land across the continent," said Mr Sisa Njikelana, former member of the South African Parliament and the facilitator of the awareness campaign against the scramble for Africa's fertile agricultural land by foreign agricultural investors.
This concerted campaign titled "Making Agricultural Investments Work for Africa: A Parliamentarian's Response to the Land Rush" has been initiated by the Pan-African Parliament and its sister parliaments to arrest this trend. This campaign, which comprised two-day workshops across five African regional parliaments, is set to sensitise regional parliaments and organised civil societies of the severity of this matter to Africa's food security and its negative impact on this sector's potential to be Africa's competitive economic activity.
The main task of this campaign is to inform parliamentarians and civil society organisations about the investment trends and patterns governing the agricultural investments in their respective regions.
"The objectives of these workshops are to inform parliamentarians of the current situation of foreign investment in their respective countries and regions, focusing on land and water. They are also meant to identify the foreign investors active in the continent as well as their investments. They are also to explore business models for agriculture that offer alternatives to land grab and to understand the legal frameworks for investments in agriculture and how parliamentarians can oversee them."
This campaign against what is referred to as land rush or land grab by investors from developed countries is the brainchild of Mr Njikelana. In his address he said part of the campaign is to conduct site visits to give parliamentarians first-hand experience of this trend and to ascertain the roles they can play to conduct their oversight over these investments. "Our aim is to conduct half-day field visits to carefully identified investment projects and to identify appropriate roles for parliamentarians to monitor and facilitate land-based foreign investments and brainstorm a programme of action for follow-up activities," he said.
This campaign is also meant to compile a literature that will profile the different types of these investments in these countries and see what synergies can be harnessed from each case study in order to have a coherent and an informed response to this issue.
"During our visits we will compile information resources and publications as resource packs that constitute these respective countries' fact sheets and guidelines for foreign investment in Africa. This campaign is also meant to generate requisite synergies, unity and to attract mass-based support and penetrate the grassroots level."
However, he made it clear that African parliaments are critical role players that need to play an active role in arresting the second scramble for Africa. "African parliaments should, through the Pan-African Parliament and continental leadership, coordinate continental conferences and engage other African Union (AU) organs and international bodies that will come up with model policies, laws and investment contracts."
He also delineated the expected role of regional and national parliaments. He said these will be charged with the task of "passing legislation, scrutinising and overseeing executive involvement in the awarding of these investment contracts. Fortunately, Benin has already passed a legislation that will govern agricultural investments in that country".
But he is of the view that the responsibility to legislate these policies and guidelines lies with parliamentarians. "The parliamentarians' role is to translate these policies into tangible actions at national and local levels. They will also be charged with the task of developing guidelines on good land governance to support the AU and its land policy guideline's initiative – and they will have to monitor its implementation. And they will also have to lobby for a larger budgetary provision to the agriculture sector. They will also mitigate, impede and expose corrupt practices and they will promote principles for responsible agricultural investment."
Mr Njikelana is also of the view that the success of this campaign hinges on the successful implementation of public participation. "Our aim is to ensure that our public participation engages local communities and other stakeholders that are directly affected by these investments. But also to promote similar engagements with international organs such as the United Nations and International Parliamentary Union."
He said although he acknowledges the different mandates of the different role players in this regard, it is, however, the joint plan of action of parliamentarians, business, intellectuals and civil society that will enhance this campaign's bargaining power. "We need to build a strong corporative base to enhance the bargaining power of this initiative by engaging the research community, intellectuals and organised civil society, especially farmers and large companies," said Mr Njikelana.