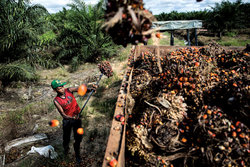 A farmworker in Berau, Indonesia, loading oil palm bunches. (Photo: Kumal Jufri)
Reuters | 24 July 2014
Louis Dreyfus quits palm oil venture in Indonesia
(Reuters) - Global trader Louis Dreyfus Commodities has left a joint venture operating palm oil plantations in Indonesia after an investment review, the company said on Thursday.
Its Louis Dreyfus Commodities Asia Pte unit quit the Green Eagle Plantations Pte Ltd (GEP) venture, which Louis Dreyfus formed in 2011 with Indonesian conglomerate Rajawali Corp.
Louis Dreyfus said in 2012 the venture operated in four regions of Indonesia - West Kalimantan, East Kalimantan, South Kalimantan and Papua - overseeing 50,000 planted hectares, employing over 2,000 people and with 2011 production of nearly 100,000 tonnes of palm oil.
"Louis Dreyfus Commodities reviews its portfolio of investments periodically and, as part of that exercise, has decided to exit its investment in GEP," the company said in a statement.
It did not provide further details and could not be reached immediately for further comment.
The family-controlled Louis Dreyfus group is the "D" of the so-called ABCD majors that dominate agricultural commodities, alongside Archer Daniels, Bunge and Cargill.
The group, which has said it aims to double sales by the end of 2018 compared with last year's $63.6 billion, has highlighted Asia as an investment priority.
It operates throughout the food chain from farms to port terminals and processing plants. (Reporting by Gus Trompiz, editing by Sybille de La Hamaide, editing by David Evans)