Agrimoney | 24 July 2014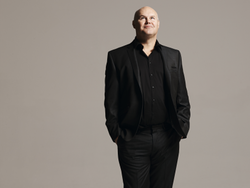 Peter Hall, founder of Australia's largest, dedicated ethical investment management fund Hunter Hall, which was the largest shareholder in the Russian and Ukrainian farmland operator Agrokultura until it sold its stake to Russian agribusiness giant Prodimex. (Photo: Max Doyle)
Agrokultura raises game as investor 'lifts stake'
Agrokultura touted its farming credentials, unveiling rising harvest yields, as the former Soviet Union farm operator named the buyer snapping up its shares – potentially raising its stake to 27%.
The Stockholm-listed group said that, helped by "excellent" weather, its Ukraine harvest was achieving record yields, with winter barley coming in at 5.5 tonnes per hectare, up 49% year on year, and its rapeseed result "materially in excess" of the 2.9 tonnes per hectare reported in 2013.
"These yield are at the level required to make the Ukraine business profitable," Agrokultura said.
With its Russian winter wheat crop "on track to match" last year's record yield, despite a difficult autumn sowing period, the group was on "well in the upper quartile" of large farm operators in the region, Agrokultura chief executive Stephen Pickup said.
Investor strikes
"These results begin to show what the internationally-listed agribusinesses operating in eastern Europe are able to achieve," Mr Pickup said, adding that the group was lift its cost and yield targets.
The statement comes as the group is attempting to contact an investor who has bought the 13.9% stake in Agrokultura owned by Australia's Hunter Hall, becoming the top shareholder, and may have purchased further stakes too
"The board has also received unconfirmed oral information from a known shareholder representative that the stakes held by Schroders and Two Eye Fund Ltd, have now been sold off-market," Agrokultura said.
"These two acquisitions, if purchased by the new investor, would together with the confirmed disposal thus total some 26.8%."
Below book value
The group added that a "reliable source" had revealed the identity of the new shareholder as Russia's Prodimex, or an investor behind it.
Prodimex - one of Russia's largest agriculture groups, particularly strong in sugar - already claims to control more than 400,000 hectares with, according to Agrokultura, "significant investments" in land close to Agrokultura's Russian farms.
Agrokultura, which has 139.0m shares in issue, has proposed issuing a further 21.0m in an effort to allow minority investors a change to raise their clout in the company.
Agrokultura last week revealed that the Russian investor had purchased shares from Hunter Hall at SEK3.75 per share – a large premium, of 22%, to the market value at the time but below book value of SEK6.80.
That could imply an attempt lies ahead to acquire Agrokultura's assets at a discount.
The shares stood at SEK3.73 in lunchtime deals on Thursday, up 14.9% on the day.