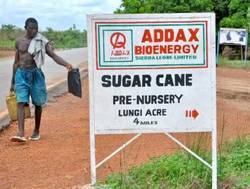 Pain pour le prochain | 10.07.14
PROJET D'AGROCARBURANTS EN SIERRA LEONE : LES PROPRIÉTAIRES FONCIERS EXIGENT UNE RENÉGOCIATION DES CONTRATS DE LOCATION DES TERRES
Lausanne, le 10 juillet 2014 – Depuis mi-mai l'entreprise suisse Addax Bioenergy produit des agrocarburants en Sierra Leone. L'organisation locale de défense des droits humains Silnorf et Pain pour le prochain suivent ce projet controversé depuis le début et viennent de publier le rapport de suivi 2014. Leur critique a permis des améliorations concrètes. Cependant, tous les problèmes ne sont pas résolus et il règne une insatisfaction liée aux contrats de location des terres. C'est pourquoi Pain pour le prochain soutient les propriétaires terriens dans la renégociation de leurs contrats.
L'entreprise genevoise Addax Bioenergy cultive quelque 10'000 ha de canne à sucre sur des terres agricoles au Sierra Leone. Les premiers litres d'agrocarburant sont bientôt prêts pour l'exportation. Parallèlement, la production d'électricité pour le réseau national débutera. Pour Abass Kamara, coordinateur de Sierra Leone Network on the Right to Food (Silnorf), le bilan reste cependant mitigé : « Addax était prêt à déplacer plusieurs champs afin que les habitants des villages concernés puissent encore accéder aux champs fertiles ou aux zones boisées qui se situent à proximité de leurs villages ». Addax emploie aujourd'hui plus de 2'000 personnes dont 90% d'hommes. « Nous avons constaté des améliorations économiques dans de nombreux villages aux alentours du projet », constate Abass Kamara. « Notre action, soutenue par Pain pour le prochain, a eu un impact. »
Des contrats de location des terres problématiques
De nombreux propriétaires terriens ne sont pas satisfaits des accords fonciers. Selon Abass Kamara, ils regrettent particulièrement de ne pas avoir pu négocier directement leur contrat avec Addax. L'entreprise basée à Genève a le plus souvent uniquement négocié avec le gouvernement national et les chefs de terre locaux, les Paramount-Chiefs, ainsi qu'il est d'usage en Sierra Leone. La durée du contrat de location s'élève à 50 ans. « Les dédommagements reçus pour les terres utilisées par Addax ainsi que pour les palmiers à huile abattus ne sont pas satisfaisants », indique le propriétaire foncier Mohamed Bangura. Certaines clauses des contrats sont également considérées comme étant problématiques. Ainsi, les litiges doivent être réglés devant un tribunal arbitral à Londres et non devant un tribunal au Sierra Leone. Les propriétaires terriens considèrent également ce point comme une injustice et demandent une renégociation des contrats.
Conséquences sur l'approvisionnement en eau
Dans deux des trois districts dans lesquels Addax est actif, la récolte de riz issue de champs collectifs n'a pas été satisfaisante l'an dernier. Dans de nombreux villages, des hommes et des femmes ont rapporté à Silnorf leurs difficultés de trouver suffisamment de bois de feu et de construction en raison d'un accès limité aux zones boisées et aux forêts. De plus, des sources d'eau potable ont été détruites dans au moins deux villages à cause des plantations d'Addax. Addax a certes créé des places de travail. Cependant, le salaire de la plupart des employés et employées ne leur suffit pas pour subvenir à leurs besoins et à ceux de leurs familles. Yvan Maillard Ardenti, spécialiste de l'accaparement des terres chez Pain pour le prochain, a constaté lors de son séjour de terrain en avril qu'une des raisons à cela est qu'environ la moitié des employées et employés d'Addax disposent uniquement d'emplois saisonniers. De plus, peu de femmes sont engagées par l'entreprise (moins de 10%).
Dialogue avec l'entreprise
Yvan Maillard Ardenti souligne que Pain pour le prochain continuera à soutenir les personnes concernées en collaboration avec Silnorf : « Un monitoring des conséquences de ce grand projet d'agrocarburants est nécessaire. De plus, Addax devrait mettre en place les améliorations demandées et renégocier les contrats de location des terres ».
Information
- Renseignements : Yvan Maillard Ardenti, Pain pour le prochain, 031 380 65 73
-
Rapport (en anglais)
(juillet 2014)