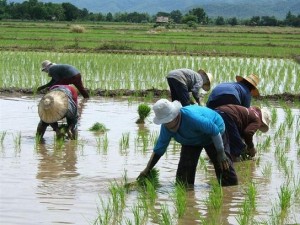 Trade Arabia | Tue, 03 Jun 2008
Thailand, the world's biggest rice exporter, has agreed to supply more rice to Bahrain for the rest of this year, traders said.
India, the world's second-biggest rice exporter last year and a main supplier to the Gulf region, said last month it will not ease curbs on rice exports.
'Bahrain signed last month an agreement with Thailand to supply more rice for this year and the latter was also willing to supply more rice for next year,' a Gulf-based importer said on Monday.
'It is part of a plan by the Bahraini government to reduce its dependency on Indian and Pakistani rice and introduce to the local market other types of rice that are easy to secure,' he said, declining to reveal volumes or prices in the agreement.
Bahrain imports around 45,000 tonnes of rice a year, mainly from India and Pakistan. Around five per cent of the kingdom's staple imports are Thai rice, traders said.
New Delhi's decision in March to ban non-basmati rice exports and curb sales of the superior basmati variety, triggered measures by others to secure supplies.
However, a panel of Indian ministers was considering a proposal to sell small quantities of rice to some countries which have made requests to India at diplomatic levels, commerce secretary Gopal Pillai said earlier.
'Whether India will lift its ban or not will not really change the current plan... you cannot depend on something that is not certain and Thai rice is a very suitable alternative for Gulf consumers,' a rice trader said.
In May, Thailand's commerce minister Mingkwan Sangsuwan said at least 10 countries, including the UAE, Bahrain, Qatar and Saudi Arabia, are seeking government-to-government contracts with Thailand to buy the staple at favourable prices.
The rising price of staples such as rice - dubbed a 'silent tsunami' by the World Food Programme - has sparked violent protests and heightened fears over food security.
Traders and industry sources said that Bahrain was also inviting private companies to set up joint ventures to invest in farmland in Thailand.
'The government is keen to see these joint ventures established as soon as possible...both the government and Bahraini private companies have been encouraged by the Thai government to implement this plan this year,' one source said.
'Representatives from both sides will be meeting within the next couple of weeks and if the plan goes through the companies established will also export rice to other neighbouring Gulf countries,' he added.
Sources have said earlier that Saudi Arabia, the world's largest oil exporter, was likely to start investing in rice farms in Thailand by the end of this year to boost food supply security.