Stock Journal | 28 May 2014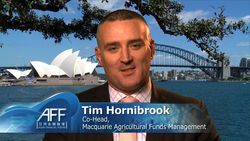 Tim Hornibrook, head of Macquarie Agricultural Funds Management, obtained sensitive details about a competitor's profits, fee structure and returns by posing as a wealthy investor.
Macquarie used fake email to get secrets
by ANGUS GRIGG AND MATTHEW CRANSTON
A SENIOR executive at Macquarie Group was involved in establishing a fake family office to extract confidential financial information from a competitor.
An investigation by The Australian Financial Review has found that Tim Hornibrook, head of Macquarie Agricultural Funds Management, obtained sensitive details about a competitor's profits, fee structure and returns by posing as a wealthy investor.
Mr Hornibrook sought the information on his competitor at a time when Macquarie was trying to raise $700 million through the investment vehicle Macquarie Crop Partners, sources said.
An email was sent in late 2011 from a Macquarie office in London claiming to be from a private investor called the Brook Family Office.
Using the address
[email protected]
, the email said the fictitious company was considering investing in the fund and needed detailed financial, performance and organisation information. The competitor, believing it was a legitimate potential investor, provided a detailed response days after receiving the email.
The email's details show it originated from the computer of a junior marketing employee at Macquarie Funds in London. A Macquarie spokesman said the bank "expects the highest standards of its employees and will be fully investigating this matter".
Mr Hornibrook, a well-known figure in agribusiness investment, did not respond to questions put to him through Macquarie. The revelations are likely to focus attention again on how it conducts business at a time when global investment banks are still under fire for their role in the global financial crisis.
The competitor that unwittingly disclosed the information to Macquarie does not wish to be named and is considering taking legal action. The email sought information on its assets under management, investment record and the amount of capital it had raised and planned to raise. It sought details on the identities of clients and the fees charged for management and performance.
It asked how the fund constructed its investment models, if it planned to make any acquisitions, the amount of leverage used and what returns could be expected from a $50 million investment.'Committed to high standards'
Macquarie's code of conduct states it is committed to conducting business with high standards and integrity.
To make certain of this it has an integrity officer in each region responsible for reporting any breaches of the code to the managing director and a board sub-committee.
Sources said the relevant integrity officer was informed late last year about Mr Hornibrook's establishment of the bogus family office.
But Macquarie took no action against Mr Hornibrook or others involved. According to Macquarie's website an employee who breaches the code faces "disciplinary action up to and including dismissal". It says it aims to ensure that its ­dealings with clients and competitors are "conducted in a lawful and fair manner".
The questionnaire, headed Brook Family Office, was created on October 20, 2011 and sent in the following days, according to the details embedded in the email. At the time the bank was raising money for Macquarie Crop Partners. It was the first time it had invested directly in grain production and the first time it had sought investments in Brazil. Its Australian arm was known as Lawson Grains. The fund bought its first grain farm in Australia in early 2012 and currently has Australian assets worth more than $150 million.
Macquarie made its first big move into agriculture in July 2007 by purchasing the famed Pooginook Merino sheep stud in the NSW Riverina.
That purchase launched a pastoral fund that aims to acquire $1 billion of rural property across Australia. Over the years it bought some of the largest sheep and beef grazing properties in the country from the likes of AACo and cattle baron Peter Hughes. After setting up the grains fund Macquarie planned to establish a dairy fund but later dropped the idea.
Since the late 2000s Macquarie has attempted to portray a less aggressive image, lower its profile and tone down its reputation of winning at all costs. It has restructured its funds management business to remove perceptions of conflicts of interest. This strategy appears to be paying off. Its share price has more than doubled to $59 since mid-2011.
An email sent to Brook Family Office on Tuesday could not be delivered as the address was no longer active.