PNGexposed | 21 May 2014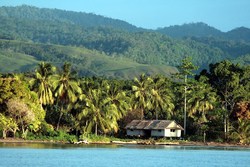 Collingwood Bay. (Photo: Eric Wakker RAN)
Villagers secure victory over Malaysian land grabbers in Papua New Guinea
The people of Collingwood Bay in Papua New Guinea have won back their land from Malaysian loggers and oil palm companies after a hard fought battle in which that received support from many groups and individuals both in PNG and overseas, including Oro Governor, Gary Juffa.
The National Court in Port Moresby has declared that two Special Agriculture and Business Leases covering 38,350 hectares of land are null and void and ordered the Sate to cancel the title deeds..
Spokesperson for the landowners, Lester Seri, said last night "the Village people got the news of the Court decision and are celebrating and shedding tears in jubilation".
The leases were originally issued in July 2012 to two PNG registered companies, Sibu Management Limited and Wanigela Agro Industrial Limited. But in October 2012 Kuala Lumpur Kepong (KLK) a Malaysian oil palm company
announced
that, together with Malaysian investment company Batu Kawan, it had acquired the rights to the land - via a third company, Collingwood Bay Plantations.
The two leases were issued by the Department if Lands despite a government moratorium on new SABLs and a Commission of Inquiry which was on-going at the time,
as we revealed
in 2012.
The Commission of Inquiry found more than 5 million hectares of land in PNG has been fraudulently leased using the SABL mechanism, but the government has failed to implement the Commission recommendations and revoke the unlawful leases.
Lester Seri says "while our people are celebrating they are mindful of the innocent families and other communities struggling thought the country with the same problem, particularly in Turubu, Pomio and elsewhere and in East Sepik, East New Britain and Oro Provinces. We are urging the government to take a firm and descisive decision in dealing with the CoI recommendations by cancelling all the illegal leases. Court cases are expensive and beyond the means of most village people".
For Collingwood Bay the court has accepted that the customary landowners never gave their consent to their land being leased and that the lease applications contained serious flaws.
When the applications for the leases were made with the Department of Lands it was not revealed the land in question was customarily owned and the survey paln referred only to a small block of land that was acquired by an Anglican mission over 100 years earlier.
The legal victory will be a serious embarrassment for KLK, a member of the international Roundtable on Sustainable Palm Oil (RSPO), Batu Kawan and the RSPO.
In April 2013 the Collingwood Bay landowners filed a formal complaint with the RSPO pointing out that KLK's involvement in the leases breached RSPO policies but the Roundtable has not taken any action against KLK.