Zambia Daily Mail | 20 May 2014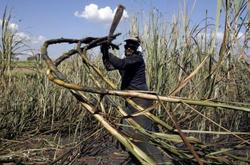 4 investors eye sugar estates
By KALONDE NYATI
FOUR foreign investors have expressed interest in setting up sugar plantations in Luapula province at an estimated cost of over US$1.2 billion to create over four thousands of jobs, provincial permanent secretary Chanda Kasolo has disclosed.
The companies from Zimbabwe, Brazil, China and South Africa are expected to invest about US$1.250 billion on the 30,000 hectares reserved for the projects.
Mr Kasolo said this in an interview in Mansa recently.
He said the Zimbabwean company is expected to invest US$500 million to set up sugar plantations and an ethanol processing plant in the Luena farm block while the other three will invest about US$250 million each to set up sugar plantations.
"The Zimbabwean investor is ready to set up the sugar plantation and ethanol processing plants but will only sign the contract once the SI is put in place and the company is ready to establish ethanol service stations in various parts of the country," he said.
Mr Kasolo, however, said the establishment of the ethanol processing plant by the Zimbabwean company awaits a statutory instrument (SI) that will allow the blending of bio fuels and fossil fuels.
The development is expected to bring down the cost of fuel, which is currently high due to the high importation.
He said countries such as Brazil and Zimbabwe are using ethanol as an alternative source of fuel hence the need for the speedy implementation of the SI that will allow the blending of fuel in the country.
On the development of sugar plantations by the three other firms, Mr Kasolo said plans have advanced with two dams being developed to facilitate the projects at the Luena farm block in Kawambwa with more dams expected to be established in various parts of the province.
"The sugar plantations will cover huge hectares of land. About 4,000 jobs will be created. -Indirect jobs through the out-grower schemes will also be created in the province," he said.
He said the provincial office is also engaging chiefs in the province on the possibilities of allocating land for the establishment of sugar plantations.
"We have been talking to chiefs and they have pledged to spare land because they want the locals to be employed by the companies that will set up the plantations," he said.
Mr Kasolo also noted that agriculture remains critical in fostering development in the province and Government is committed to woo investors in the agriculture sector.
He said the province endowed with about 45 percent of the country's water bodies has investment opportunities in rice and palm oil production.