Wall Street Journal | 19 May 2014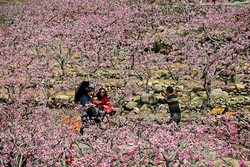 The peach blossom park in Sichuan province, which covers 667 hectares, attracts many tourists. (Photo: Zuma Press)
Investors pin hopes on peaches with China's latest trust product
In the already opaque world of trust products, China is pushing the boundaries of what investors can bet on.
Wuxi's shui mi tao, which locals claim to be the most delicious peaches on earth thanks to their juiciness and softness, aren't just for eating anymore. State-owned trust firm Beijing International Trust Co. recently figured out a way to launch a product tied to 160 acres of peach orchards in a little village located in Wuxi, about an hour and a half by train west of Shanghai.
Together with the local government, the trust firm convinced 233 villagers to give up their land rights for the next 15 years for an annual income of 1,700 yuan ($272.4) per acre, according to the China Business News. After the first six years, the report said, the villagers will get additional income in the form of a cut from returns on the land. The trust firm and contractor, hired to manage the land professionally, also get a cut of the returns.
Such bets on rural land are fairly recent.
The idea is that consolidating a big swath of land and hiring one agricultural company to manage it will make the land yield more than it would under a bunch of individual farmers. Extra capital could conceivably go towards buying fertilizer, improving irrigation or other efforts to further increase returns on land, eventually benefiting investors as well, the theory goes.
In the meantime, peachy trusts can – it's thought – also help aid China's plans to urbanize. Many villagers, the paper noted, don't even farm anymore. "Returns from the peaches aren't bad, but young people don't want to put in the work. They prefer the city life, and that's put a stop to the planting," village part secretary Zhou Jianfeng told the paper.
China's trust products invest in everything from traditional products like stocks to loans for businesses shunned by banks, or even construction loans for heavily indebted local governments. They make up a growing chunk of China's unregulated shadow banking system: Between 2007 and 2012, they grew sevenfold.
Though the peach selling point might be novel, this isn't the first time firms offering trust products have tried using land rights as a way to entice investors. Last October, Citic Trust Co. launched the first trust product backed by rural land rights, which involved 360 hectares of land that were leased from farmers in eastern Anhui province. That product had a similar duration of 12 years, although it wasn't clear what the land was being used to farm. This March, Citic Trust and the government of Huanggang city also agreed to cooperate on a Longganghu land pilot area for land trust reform. The parties mapped out six million acres, the largest ever single land transfer trust project Citic Trust had undertaken, according to a report by 21st Century Herald.
Trusts generate cash to pay their investors, so the more lucrative the underlying asset, the better. In its breakdown of what trusts are investing in, government-backed industry group China Trustee Association found that roughly 28% are backing construction businesses, about 25% are backing what the group classifies as "basic industries" and 10.4% have put their money in property. Stocks and bonds take up a smaller fraction of 2.8% and 7.4%.
Last year, a Shanghai Daily editorial touted rural land transfer trusts as a way to give farmers a stable means of income. Such trusts, it said, are part of a national effort to establish a more transparent rural property market. While farmers don't own land in China, in the last decade they have been increasingly allowed to mortgage or transfer rights to use their land.
But how the peach-backed trusts will pan out for investors is unclear. Sure, the peaches taste great (we've tried them), but that doesn't mean producers can necessarily succeed in exporting the fruit to far-flung areas with the highest demand. The peaches don't have a long shelf life and can get bruised easily, yielding nothing more than a rotten mess.
And then there's the question of how well the land will be managed, as well as uncontrollable factors like the weather. "If the land is not productive then it's valueless," says Lee Chong Min of CMIA Capital Partners, a Singapore-based private equity firm investing in Chinese food agricultural businesses, including makers of farming equipment. "Agriculture businesses are not easy—prices can be volatile and production price margins aren't high," he says. "It can be volume game."
Beijing International Trust doesn't disclose what it pays investors and didn't respond to requests for comment.
Trust products in China often promise annual returns up to 10%, which have enticed investors away from more traditional options like wealth management products, stocks, bank deposits and even property. But worries are growing that some trusts won't be able to pay back investors, as a slowing economy puts pressure on companies taking out the loans underlying the products. Trust firms haven't seen a major bust yet, but analysts say the increasing complexity of the assets they back—sometimes involving a number of different assets classes, including peaches and land rights in this case—would make resolving a potential default much more complicated.
– Chao Deng. Follow her on Twitter @chao_deng