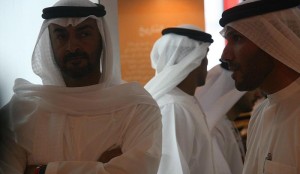 Emirates Business 24/7 | Tuesday, May 13, 2008
By Staff Writer
General Sheikh Mohammed bin Zayed Al Nahyan, Crown Prince of Abu Dhabi and Deputy Supreme Commander of the UAE Armed Forces, on Monday met Egyptian Ministers of Trade and Industry and of Agriculture and Land Reclamation Rachid Mohamed Rachid and Amin Abaza. During the meeting, also attended by Minister of Presidential Affairs Sheikh Mansour bin Zayed Al Nahyan, they discussed means of boosting ties.
General Sheikh Mohammed reiterated keenness by the President, His Highness Sheikh Khalifa bin Zayed Al Nahyan, Ruler of Abu Dhabi, to consolidate relations with Egypt, especially in fields of economy, investment, agriculture and culture.
He highlighted the significance of boosting UAE investment in Egypt's agricultural sector in the light of the current rise in prices of commodities worldwide.
General Sheikh Mohammed said Egypt has the requirements for the cultivation of all crops. (Wam)