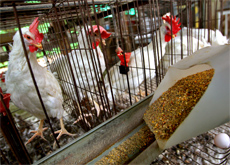 Financial Times | May 11 2008
By Simeon Kerr in Dubai and Farhan Bokhari in Lahore
One of the Middle East's largest private equity companies has been quietly buying farmland in Pakistan as part of plans by the United Arab Emirates to increase food security and to damp inflation.
Dubai-based Abraaj Capital says it is working with the UAE government on the strategic agribusiness investments in Pakistan. The government in Abu Dhabi has been holding talks with Islamabad about a framework for investment in its agricultural sector as it seeks to secure cheaper long-term supplies of staples such as wheat and rice.
The Gulf state, which imports 85 per cent of its food needs, has already said it is to consider building a strategic reserve of staple food items, part of a broader strategy to tame inflation of more than 10 per cent, with sharp rises felt in food prices across the entire UAE population.
A senior Pakistani official told the Financial Times the government had agreed in principle to allow the sale of rural farmland to investors from the UAE, setting aside Pakistan's own domestic concerns about increasing food prices and shortages of important commodities.
"Our aim is not to do away with precious farmland but in fact to raise the productivity of our farms and turn barren land in to fertile farmland," said a senior government official familiar with negotiations between Pakistani and UAE officials.
Abraaj Capital, which manages $5bn of assets across the Middle East, North Africa and the Indian subcontinent, has been purchasing land in Pakistan during the past year, a company official said. UAE state and private entities intending to build agribusinesses in Pakistan have acquired as much as 800,000 acres of farm land, he said. Other firms interested in taking part in farming in Pakistan include Emirates Investment Group and the Abu Dhabi Group.
The Pakistani government, which is offering legal and tax incentives to foreign investors in agriculture, may also introduce legislation to stop foreign investors becoming caught up in government-imposed export bans.
The UAE and Pakistan are close allies, the capital Abu Dhabi having particularly strong commercial and political links with Pakistan.
Islamabad also has to balance calls for Pakistan to raise agricultural productivity at a time when rising food prices are at the centre of popular outcry.
Food and beverage prices in March increased by more than 20 per cent; a record year-on-year increase.
"You have the potential to become the granary for your surrounding region. The problem, however, has been that Pakistan's agricultural yields have gone down, [and] now must be lifted," said Makhdoom Shahabuddin, a leader of the ruling Pakistan People's Party and former junior finance minister.
"What you need is a package deal in which UAE investment or investment from any other country should go towards improving the use of technology," said Suhail Malik, an economist.
A government official in Abu Dhabi says the UAE, which has yet to complete any deal with Pakistan, is talking to other states about purchasing land.
Sudan and Somalia are also offering land to foreign investors keen to develop these impoverished states' agricultural sectors, especially livestock and dairy.
The UAE has leant on other private sector companies as it fights the rampant inflation eating away at living standards of many Gulf residents, triggering worker riots and threatening a middle-class expatriate exodus. The economy ministry has persuaded some supermarkets and cement producers to rein in prices.
Gulf states such as Saudi Arabia and Qatar also turn to Pakistan as they try to build agriculture holdings to secure food supplies, most of which have to be imported to the arid Gulf region.
Jordan's agriculture minister said on Sunday the Arab states were to consider forming an emergency fund to help Arab states affected by food price rises of about 40 per cent in the past year.