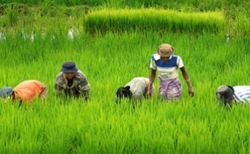 3 April 2014
LPI e-consultation on the draft Guiding Principles on LSLBI
From 11 March until 3 April 2014 a Land Policy Initiative e-consultation on the draft Guiding Principles on Large Scale Land Based Investments was held.
The documents, including

Synthesis Report on LSLBI.pdf

E-Consultation Concept Note rev_Formatted.pdf

Guiding Principles for E-consultation.pdf

Guiding Principles for E-Consultation - French.pdf
and responses (including from World Bank, IIED, an
LPI-affiliated CSO platform
, UNCTAD, ActionAid, etc) are
online
.
According to
IISD
, the Principles will be endorsed by African Heads of State in August 2014 at the African Union Summit.
(The LPI is a joint initiative of the African Union Commission, African Development Bank and UN Economic Commission for Africa. More info at http://www.uneca.org/lpi)