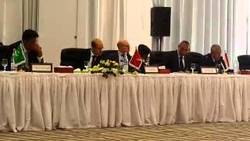 The Egyptian minister declined to say whether the land would be used for wheat or other crops or to disclose its location.
Green Prophet | 24 April 2014
Arab investors and land grabbers wanted by Egypt
by Laurie Balbo
Egypt plans to lease 25,000 hectares of agricultural land to Arab investors. Agriculture minister Ayman Abu Hadid made the announcement in Tunis recently. Egypt is hoping that sustainable farmers will apply.
The
meeting was hosted by the Arab Authority for Agriculture Investment and Development
(AAAID); it's part of a plan to attract foreign investment in sustainably developing the country's agriculture sector.
Egypt's agricultural land base measures around 8.4 million feddans (an Egyptian unit of area equal to 1.038 acres) and, as of 2010, the water-starved nation imported 40% of its food.
For the past decade, Arabian Gulf nations have been exploring ways to secure tracts of agricultural land in water-rich countries in Africa and Asia.
Absent sufficient freshwater to grow crops to feed their increasing populations, nearly half a billion acres of land – eight times the area of Great Britain – were sold or leased in transnational deals – and
the Middle East is among the busiest land-grabbers
.
A 2012 report by the Land Matrix project, a coalition of research centers and civil societies, indicates:
Saudi Arabia purchased about 5.5 million acres, the largest being 675,000 acres in the Philippines by Eastern Renewable Fuels Corporation for agriculture.
Israel acquired about 5.9 million acres, 4.9 million of them in the Democratic Republic of Congo by an unknown investor for agriculture.
Now Egypt is jumping aboard,
according to Mada Masr news
, leasing land in nearby Sudan.
Attempts to buy or lease farmland have raised controversy in host countries, leading to accusations of neo-colonialism, demonstrations, and violence. At a minimum, the practice raises questions about fair pricing, implications to local labor and resultant environmental impacts.
Buying into established agricultural firms in food exporting countries such as Serbia, Nigeria and even China sidesteps most obstacles.
The AAAID is comprised of 20 Arab and African member states seeking food security for their populations.
Saudi Arabia is the largest shareholder, contributing over 22% of organizational capital, followed by Kuwait with 19.5%, and the United Emirates, Sudan and Iraq each with a 15% share. Egypt contributes just 3%.
Hadid did not disclose where the land location or what crops would be grown, but
he told Reuters Egypt
that he hopes to give the land to a company partnered with AAAID.