Interfax | 23 April 2014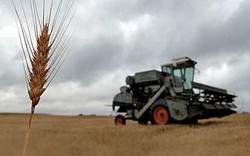 In 2011,
NCH said
it had been able—by direct purchase or lease—to acquire, aggregate and operationalize roughly 700,000 hectares of prime farmland in Russia, Ukraine and other Eastern European countries.
EBRD issues $40 mln to NEPF fund to support grain farms in Ukraine
The European Bank for Reconstruction and Development (EBRD) has issued up to $40 million in a secured loan to New Europe Property Fund L.P. managed by NCH Capital Inc. to improve the efficiency of its agricultural projects in Ukraine.
According to the press service of the bank, the EBRD provides loans to more than 30 agricultural producers and elevators throughout Ukraine that belong to New Europe Property Fund L.P.
These funds will be used to replenish the enterprises' working capital and support their export operations with grain for the next three seasons. It also assumes a significant reduction in carbon dioxide emissions and the improvement of energy efficiency at these enterprises.
As reported, NCH New Europe Property Fund L.P. was created in summer 2005, its funds were fully invested in real estate and agricultural companies in Eastern Europe and the countries of the former Soviet Union.
NCH Capital, headquartered in New York, was created in the early 1990s and originally specialized in investment in Russia and the Baltic countries. Then it established regional offices in Russia, Romania, Ukraine, Latvia, Bulgaria, Moldova, and Albania, and in 2012 the company entered the Brazilian market. During activity NCH Capital created 21 funds and currently manages capital exceeding $3 billion.