Reuters | 22 April 2014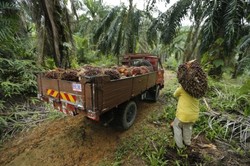 A worker carries oil palm fruit at a local palm plantation in Shah Alam outside Kuala Lumpur, Malaysia, Nov. 21, 2013. (Photo:REUTERS/Samsul Said)
Palm oil industry struggles to build trust in rights pledges
by Megan Rowling
LONDON (Thomson Reuters Foundation) - James Mulbah knows how forests work. After fleeing Liberia's civil war, aged seven, he and his family lived as refugees in a forest village in Guinea for the next eight years, reliant on the environment for food, medicine and fuel. The trained sociologist is now putting that knowledge to good use in his native country.
Mulbah is part of the community affairs team at Golden Veroleum Liberia (GVL), an oil palm developer whose main investor is Singapore-based giant Golden Agri-Resources. His job is to persuade local people to let the company plant oil palm on the land where they have subsisted for generations.
It's a painstaking process, requiring several months of consultation and negotiation. The company has just signed its third agreement in Grand Kru County, covering some 1,800 hectares. In return, the two communities involved will receive an annual payment of $5 per hectare, jobs, scholarships, hand pumps for water and a slice of plantation for themselves. Schools and a road will be rehabilitated.
GVL is the first big company to start operations in Grand Kru, and its arrival stirs mixed emotions and sometimes false expectations, Mulbah told Thomson Reuters Foundation from its office there.
The key is to "give the local people power to take charge of their own development ... instead of telling them 'I came to change your life'", he said. "The company is aware that we cannot employ everybody and we cannot give everything to the communities."
GVL hasn't always taken such a nuanced approach. In 2010, the Liberian government awarded it a 65-year concession to grow oil palm on some 350,000 hectares in the West African country's southeast.
But after starting work in Sinoe County, it was criticised for failing to respect both community land rights and the planting procedures of the Roundtable on Sustainable Palm Oil (RSPO), a not-for-profit association that runs an international certification scheme for ethical palm oil.
The U.N. Security Council even warned that animosity between local communities and GVL raised "a distinct possibility of land-related conflict".
"The GVL concession is an example of a missed opportunity to integrate rural growth plans into one of the largest private sector investments in Liberia," it said in a 2012 report.
Since then, the company's attitude has changed. It now recognises it must gain what is called "free, prior and informed consent" (FPIC) from local people before the first oil palm tree is planted, Mulbah said.
That involves sitting down with communities, giving them clear information in their own language, mapping the area together, deciding which parts can be used, and then agreeing on the compensation they will receive.
BIG PROMISES
The shift in GVL's approach is indicative of a wider transformation across the rapidly expanding international palm oil industry. Palm oil is an edible vegetable oil derived from the fruit of oil palms and is a globally traded agricultural commodity, widely used in food products like chocolate and margarine, as well as in cosmetics and biodiesel.
Since late 2013, some of the biggest growers and traders of palm oil - including Wilmar International and Golden Agri-Resources - have made new promises or extended previous policies to guarantee by a certain date that their product will no longer cause deforestation, nor exploit workers and local people.
Those commitments have been matched by similar pledges from major manufacturers and retailers of consumer goods that use palm oil, such as Unilever, Procter and Gamble, Kellogg Company, Nestle and Ferrero. Many say they will use only palm oil certified by the RSPO, respect community rights, and shut out suppliers that plant on fragile peatland or cut down biodiverse forests storing large amounts of carbon.
Some have gone beyond this, indicating they will work with palm oil producers, including smallholders, to improve their practices. Unilever, for example, announced in November it would develop a programme in Indonesia - the biggest grower of palm oil - with government-owned plantation company PTPN III, the Sustainable Trade Initiative and the RSPO to help small, independent growers in North Sumatra increase their productivity and quality, their access to finance and their RSPO certification.
"We believe it is better to work with suppliers as a first step to persuade them and help them to move to more sustainable agricultural methods," Unilever said by email, adding it has adopted the same approach in the fishing and tea sectors. "However, we will always take a firm stance with those suppliers that do not comply."
The multinational is working with groups like Oxfam to build sustainable, smallholder-based supply chains for its raw materials "that provide improved quality crops and have positive developmental impacts", it said.
Experts who have worked with companies that produce or use palm oil for the past decade, since the RSPO was set up in 2004, say the social impacts of the business are becoming more positive, partly thanks to pioneering efforts by some of the bigger firms.
STATELESS CHILDREN
Torben Venning is executive director of the Humana Child Aid Society, which runs around 130 learning centres for more than 12,000 children in eastern Malaysia's Sabah province. Most are stateless, born to migrant workers from Indonesia and the Philippines employed on Borneo's oil palm plantations. The children do not have the right to attend Malaysian schools.
Venning, a Danish teacher who launched his project in 1991, said the companies he works with - which provide about 70 percent of Humana's funding - have come to appreciate the need for decent labour conditions on their plantations.
Workers who once lived side by side in old wooden longhouses are now lodged in small family units. Last year, a minimum salary was introduced. And a growing number of plantation owners ensure their employees' children get a primary-level education. "You take good care of the workers and they will tend to stay with you," Venning said.
Since last year, the principles and criteria for RSPO certification stipulate that growers and millers should provide educational facilities where no public schools are available or accessible. But there's a long way to go, because "thousands of children" living on plantations in West Africa, Latin America and Papua New Guinea still don't attend class, and end up helping their parents gather oil palm fruit, Venning said.
Lanash Thanda, a lawyer who heads the Sabah Environmental Protection Association, agrees some of the region's plantations have cleaned up their act, but it's mainly those run by larger RSPO-certified producers selling to firms based in Europe or the United States. The two biggest export markets for palm oil are China and India, while a proportion of production is used domestically in Indonesia and Malaysia.
"The actual culprits are the government-linked companies that are opening up forest areas, and have been doing things wrongly - causing pollution and other environmental problems," Thanda told Thomson Reuters Foundation from Malaysia.
RISING DEMAND
Only 16 percent of the palm oil traded globally is certified by the RSPO, which has some 1,400 members comprising oil palm producers, palm oil processors and traders, consumer goods manufacturers, retailers, banks, investors and green groups.
According to a report from WWF, the volume of RSPO-certified sustainable palm oil produced worldwide increased from 1.3 million tonnes in 2009 to 8.2 million tonnes in 2013 - but only around half of that was sold as certified oil, pointing to a large over-supply.
Demand is on the rise, however, as more companies commit to buying and selling a greener product. The RSPO reported this month that sales of certified palm oil hit a new high in the first three months of the year, up 49 percent compared with a year ago.
Despite this, some experts are skeptical that the RSPO can bring change fast enough. Bastien Sachet, director of The Forest Trust, says the RSPO is "dysfunctional" because it doesn't protect secondary forests and creates "huge" logistical costs. In addition, consumers in Europe and elsewhere don't recognise its trademark, he adds.
The Forest Trust, an international non-profit consultancy, works with 80 top retailers and manufacturers, including Nestle, Mars and Golden Agri-Resources, to deliver what it calls "responsible products" by tackling deforestation and empowering forest communities.
Sachet believes the key to sustainable palm oil is being able to trace where the oil comes from - which which many buyers have promised to do - and then cooperating with the people who grow, refine and sell it, to improve their practices in a long-term relationship.
"What the trader will start selling to a Nestle or a Mars is a quality, a price and a story - before they were just selling a quality and a price," Sachet told Thomson Reuters Foundation. "We believe this will revolutionise things because it will lead to more stable supply chains."
Sachet fears companies will miss many of the deadlines they have set themselves for tracing their supplies and for eliminating deforestation and exploitation from their supply chains. But what they must do is report regularly on their efforts, and address any problems as soon as they emerge, he said.
QUESTIONS REMAIN
The trend towards sustainable palm oil may indeed suffer from a lack transparency, argues Marcus Colchester, a senior policy advisor with the Forest Peoples Programme. The recent slew of corporate commitments look good on ambition, but are short on the detail of how to prove they are being met, he said. Businesses may also be dropping aspects of the RSPO criteria that are important for communities, such as food security for workers.
"There are a lot of questions out there, and we're worried (companies) are not carrying through the whole set of (RSPO) standards, and then will not to be open to scrutiny," Colchester said.
It may be easy to check whether forests and peatlands are being burned to clear them for planting, using satellite imagery and open data services like the recently launched Global Forest Watch. But it is much harder to track whether land is being "grabbed" from communities without their consent, or if women are participating in village decisions, Colchester noted.
In Indonesia alone, there are some 4,000 land conflicts between palm oil companies and local people, which can take years to be resolved in court.
To deal with social problems fairly, clear complaints procedures are needed, Colchester added. "These corporate pledges need to be tightened up, and have rigour," he said.
Jerome Lewis, an anthropologist specialising in Central Africa at University College London, sees a sea change from a decade ago when few companies would even say they were concerned about issues like deforestation or community rights. But he's not convinced "a balanced system" is achievable.
In the next 50 years, the biggest benefits from palm oil deals will accrue to the companies and politicians involved, not the communities whose land they are exploiting, he believes. "The imbalances of power are so huge, the imbalances of wealth are so dramatic that local people will never really have an equal say," he said.
He, like others, lays much of the blame at the door of developing-world governments that are rushing to lease their country's land to profit from its natural resources without caring about the social and environmental impacts - just as in colonial times. "It is exactly the same system being employed today, except this time, it's not white men, it's local and national elites," Lewis said.
STARTING SMALL
The sustainability expert has been involved in a small-scale effort to try and change that culture from the inside out, designing the curriculum for the Centre of Social Excellence (CSE), which trains young African graduates in improving the relationship between companies involved in forestry and palm oil production, and local communities.
At its two centres in Brazzaville, Congo, and Yaounde in Cameroon, the centre - backed by The Forest Trust - has so far trained around 50 students, who also spend a few months interning with companies in the field. That is how James Mulbah, a CSE alumni, came to be working with GVL in Liberia.
Mulbah said his CSE studies taught him how to communicate with everyone involved in palm oil deals - from vulnerable villagers to corporate managers. He has learned that gaining local people's consent doesn't end when a piece of paper is signed, and that implementing an agreement throws up new challenges.
The daunting task he and his colleagues now face is to prevent the tens of thousands of hectares on which GVL hopes to plant oil palm from triggering conflicts over land rights or fair compensation. They have just started negotiating another agreement, this one covering 2,000 hectares.
"When the company builds solid trust with the community, that means the investment is secure, and that is what we are trying to do here," Mulbah said.