Manila Times | 22 April 2014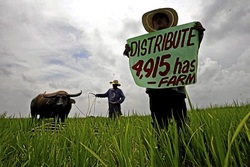 Peasant group KMP warns of intensified landgrabbing and denial of farmers' rights with the "imminent" entry of businessman Manuel V. Pangilinan and PT Indofood in Central Azucarera de Tarlac.
'MVP's imminent entry in Luisita to intensify unrest'
by NEIL A. ALCOBER
MILITANT peasant group Kilusang Magbubukid ng Pilipinas (KMP) on Tuesday warned of intensified land-grabbing and denial of farmers' rights with the "imminent" entry of businessman Manuel V. Pangilinan in Central Azucarera de Tarlac.
"President Benigno Aquino 3rd and his family have been bastardizing the Supreme Court decision for two years now. Control over the lands remains with the Cojuangcos despite the government's payment of almost half a billion pesos," Rafael Mariano, the group's chairman, said in a statement.
On April 24, 2012, voting 14-0, the highest tribunal ordered the total distribution of Hacienda Luisita to more than 6,000 farm worker beneficiaries and pay the farm workers P1.3 billion.
"Worst, after two years political maneuvers never stopped. The Cojuangco-Aquinos continuously wields their political power to deny the farm workers of their rights to the land," Mariano said.
He said that "with the help of the Aquino-controlled Department of Agrarian Reform and state security forces, the Cojuangcos managed to deceive the farmworkers in its much-hyped 'tambiolo' land reform."
"Today, the Cojuangcos are maneuvering to further strengthen control over the lands by intensifying the practice and use of Hacienda Luisita lands as a financial instrument, increased land-use conversion, and land speculation," Mariano said.
The peasant leader was referring to reports that PT Indofood Sukses Makmur Tbk. of Indonesia, the food unit of Hong Kong-based conglomerate First Pacific Co. Ltd., maybe interested to acquire the sugar mill inside Hacienda Luisita.
First Pacific Managing Director Manuel V. Pangilinan said there is a strong interest to invest in the mill, which is in a 50-hectare property in the estate, since Indofood is a major plantation operator in Indonesia in palm oil, sugar, rubber, coffee and cacao.
Indofood, controlled by the Salim family, is engaged in oil-palm cultivation and milling; as well as the production and marketing of branded cooking oils, margarine and shortening. It is also engaged in the cultivation and processing of rubber, sugar cane and other crops.
"We are interested in sugar in general because Indofood is in sugar plantation and sugar milling and refining," Pangilinan said.
In November last year, First Pacific bought about 31 percent of Roxas Holdings Inc. (RHI). A month later First Pacific increased its stake in RHI to about 34 percent and shelled out about P2.47 billion by buying out other minority holders. Roxas and company sold up to 34 percent of its 66 percent stake in RHI for P2.23 billion at P8 per share.
"These recent developments in the sugar industry clearly demonstrate that MVP's acquisition and entry in Hacienda Luisita is imminent. The farm workers of Hacienda Luisita should prepare for another round of intensified agrarian unrest," Mariano warned.
The group has been pushing for the enactment of House Bill 252 or the Genuine Agrarian Reform Bill that seeks the nationalization of all agricultural lands and the subsequent free distribution of lands to landless tillers.