Asian Peasant Coalition | 16 April 2014
Peasant leader, family arrested in Hacienda Looc; PH's haciendero President mocks UN's 2014 International Year of Family Farming – KMP
The militant peasant group Kilusang Magbubukid ng Pilipinas (KMP) and the Samahang Magbubukid sa Batangas (Sambat) today described as a mockery of the United Nations-declared International Year of Family Farming the Aquino government's illegal arrest of a peasant leader and his family in Hacienda Looc, a more than 8,650 hectare productive agricultural land being grabbed by giant real estate developers in Nasugbu, Batangas.
At around 6:00 in the morning yesterday, about 100 combined forces of the Regional Mobile Group Philippine National Police (RMG-PNP) and 733rd Squadron of the Philippine Air Force (PAF) barged into the compound and forcefully entered the houses of Armando "Ka Mandy" Lemita, Natividad Lemita (mother of Armando) and barangay councilor Randy Flores (nephew) for alleged possession of high powered guns and ammunitions.
However, no guns were found in the houses of Armando and Flores, while allegedly a gun and some bullets were found in the house of Natividad but accounted it to Anatalio Lemita (brother of Armando) who was not even residing in the said house.
Despite negative search, Armando was handcuffed together with his wife, Rosenda, and daughter Alyssa. Anatalio was also arrested.
Armando is the spokesperson of the Ugnayan ng Mamamayan Laban sa Pangwawasak ng Kalupaan ng Hacienda Looc (UMALPAS-KA Hacienda Looc) and secretary general of the Haligi ng Batangenyong Anakdagat (HABAGAT).
"The arrest of Ka Mandy and his family is a mockery by the haciendero President to the International Year of Family Farming.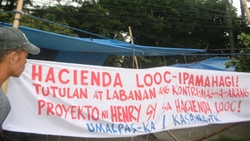 "This brazen act of political repression is obviously linked to the Hacienda Looc farmers' struggle for their rights to the land," says KMP chairperson Rafael Mariano.
"Giant real estate developers backed by Aquino's haciendero government are the primary beneficiaries of this latest attack against Hacienda Looc farmers," Mariano said adding: "The Aquino government's growing fascism is bound to escalate agrarian unrest in Hacienda Looc."
The UN declared this year 2014 as the International Year of Family Farming supposedly to raise the profile of family farming and smallholder farming by focusing world attention on its significant role in eradicating hunger and poverty, providing food security and nutrition, improving livelihoods, managing natural resources, protecting the environment, and achieving sustainable development, in particular in rural areas.
Reports reaching the KMP national office also said that the police and militaries also assaulted Armando and his family; Armando collapsed after being kicked on his chest and was stepped on his stomach while lying on the ground.Armando has been suffering from bone problems prior to the arrest and such assault shall aggravate his condition.
For his part, Sambat chair Romy Cayao said that "this is not the first time that Lemita and his family experienced harassment from the hands of the military. Last year, an intelligence agent of the PAF tried to corner him while alone in his farm for interrogation; when his relatives confronted the said officer and tried to bring him to the barangay council for investigation, members of 730th Combat Group - PAF rushed in to the barrio to fetch their officer and instead of explaining for their actions resorted to filing trumped-up charges against Armando and his brother Anatalio.
"The AFP and the PNP are desperate in trying to achieve the deadline objectives of the Oplan Bayanihan which aims to quell legitimate people's resistance in the guise of counter-insurgency, it is continuing to resort to unlawful arrests of peasant leaders and harassment on communities with land dispute in order for the Aquino government to be able to push through with its anti-people policies and projects like eco-tourism being pushed by his allies like Henry Sy... However, as we believe that such projects won't benefit the majority and shall only bring about dislocation and massive loss of livelihood, we continue to resist and fight for our right to land.... and not even the continuous arrests and harrassments on our ranks won't stop that!" an enraged Cayao exclaimed.
The illegal arrests of Lemita's family happened before the visit of President Aquino to Batangas anytime this April for the intended full maximization of the Batangas International Port; a flagship project of the current administration that shall bring about more massive demolitions and dislocation, not only in Batangas City but even on other municipalities with domestic port construction like Nasugbu.
"Aquino's anti-people programs are bound to fail. In his Regional Development Plan, the demolition of coastal areas and conversion of agricultural lands to eco-tourism such as what is intended to be done to Hacienda Looc; as well as the intended full maximization of the Batangas International Port for the interests of rich investors and businessmen will always be met with protest and resistance... The arrests and harassment on leaders of legitimate people's organizations only proves its desperation to cater to the interest of the few by using its militaries and police to trample on people's rights... we shall stand united against all these threats on our basic rights," added Cayao.
At present, Armando and his family are detained at the Batangas Police Provincial Office (BPPO). A protest vigil was held since yesterday by their friends and members of various sectoral organizations that support their struggle and call for the immediate release of Armando and his family.